King's Bounty: Dark Side has been released and John left me with the task of reviewing the game, but not before a short history lesson. I've never heard of King's Bounty before. I know, this is the part where my age starts showing. See, King's Bounty was released in 1990. This is the year of my birth, and while I do talk myself up as playing games like a champ when I was young (Super Mario Bros. and Mega Man were some of my favorite pastimes as kid), I wasn't quite equipped to handle anything but a pacifier at this point. However, this didn't stop John from sitting down and playing the game when it was released.
I'm actually somewhat surprised that I haven't run into a King's Bounty game during my time as a gamer. There have been plenty of new games in the series released over the last few years and I went through a phase in high school where I asked for old computer games for my birthdays and as Christmas presents. Granted, most of these games came from the Dungeons & Dragons series, such as Baldur's Gate 1&2, Icewind Dale 1&2 and others. I guess this just shows that my journey as a retro gamer is far from complete.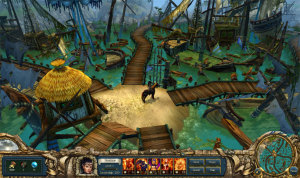 With all this being said, readers should fully understand that I've never touched a King's Bounty game before. This means I'll be jumping into the game without any expectations based on previous titles in the series.
King's Bounty: Dark Side allows player to choose from one of three characters right off the start. Each of these characters comes from one of three creature types that are typically associated with evil. They are an Orc, a Vampire and a Demoness. No matter which character players start out with, they are flung into a battle where the chosen creature's race is being wiped out in an attack made by humans.
[amazon asin=B00KN7AZH8&template=add to cart]
After the initial conflict, the three characters all meet up in a dwarven bar and share their stories. Not content to let the humans that bask in the light walk all over them, they agree to find the spirit of dark and help it regain power so that they can overthrow the light.
I liked the ability to play as three different characters as each one brought their own unique style and stats to the game. The Orc takes on the role of the rough n' tough physical fighter, the Vampire excels at using magic and the Demoness has better leadership qualities than the other two.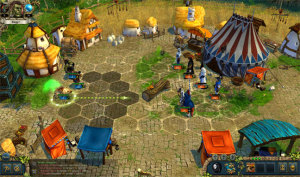 My first time playing King's Bounty: Dark Side I chose to go with Baghyr the Orc. I was a little distracted at this time and I know I missed out on a few opportunities to collect troops and strengthen my army. This made it so that an hour into the game I couldn't progress forward due to my weak state. It was at this point that I realized how serious I'd have to be with this game.
On my second go at King's Bounty: Dark Side, I chose to play as Neoleene the Demoness. This time I paid a lot more attention to what was going on around me and was able to make it through the game. This doesn't mean that I never faced a tough opponent, it's just that I was more prepared for them.
After finally getting the hang of King's Bounty: Dark Side, I found a really interesting strategy RPG that gave me loads of content. There are tons of quests to complete in the game (though not all of them need to be done) and I spent plenty of time doing a lot of them.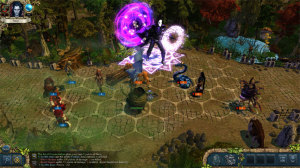 Several of the quests in the game have players upgrading their home base to prepare for the upcoming war with the light. This included finding wizards to help create new spells, enlisting the help of dragons and getting each of the three main characters their own personal companions. The addition of companions was interesting as they also leveled up and got stronger. This would in turn make the player's character stronger. However, it wasn't as simple as collecting experience. Instead, companions are leveled up by completing certain tasks in battle or on the field.
Battles in King's Bounty: Dark Side take place on a hexagonal grid. Each turn allows the player and enemy to move and attack with their units. The player can also call on the aid of a creature named Blackie to do special attacks once a turn at the cost of rage. Rage is built up by attacking and being attacked. Players can also cast spells once a turn, but they have to have enough mana to do so.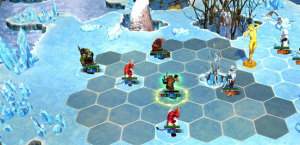 One of the great things about King's Bounty: Dark Side is the amount of units that are available in the game. Players can enlist the help of demons, orcs, vampire, pirates, dark knights and everything in between to build up their army. This allows players to build their army based on how they play and level up their character. When playing as Neoleene the Demoness, I focused on increasing my leadership so that i could bring more troops into battle. I also gave a secondary focus to my magical abilities and specifically used units with long range, area of effect attacks to weaken enemies before they got close to my units.
I played King's Bounty: Dark Side on the normal difficulty and I still had trouble with several battles. There are harder difficulties out there for more seasoned players of the series, but this reviewer wasn't ready to take them on. Loosing troops was a normal thing for me every battle, so I couldn't imagine how badly I'd get beaten on anything above the normal setting.
The visuals in King's Bounty: Dark Side aren't the greatest. Sure the world has some alright textures, but it never quite felt like it was alive. In fact, this is how most things in the game appeared. Characters had really stiff animations that made them look more robotic than human and I ran into a few graphical glitches here or there that just made me sit back from my computer and ask "What the heck just happened?"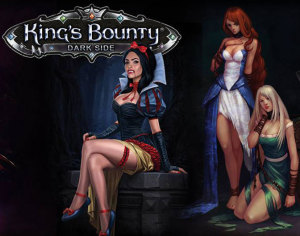 Music in King's Bounty: Dark Side is great. The music is actually so well done that it doesn't seem like it fits into the game. Epic singing that feels like it should accompany the player hacking their way through a field of enemies in all the typical action hero poses was commonplace, but it never felt quite right. My wife actually came to look over my shoulder at one point while I was playing simply to see what was going on that was so amazing. She was disappointed when she saw what the game was all about. So, yes, it has great music, but it doesn't quite fit the game.
There's a limited amount of voice acting in King's Bounty: Dark Side. Most of the voice acting is found in battle and its just guttural noises or magic chants. This has never really bothered me in a game before, but some players might be put off by the mountains of text that has to be climbed throughout the game. I'm talking about a game that is filled with quest after quest of dialog and enough quests and text that players will be reaching the upper double digits for hours spent in the game.
Overall, I like King's Bounty: Dark Side. The game was fun and challenging and I easily found myself losing hours of my day to the game without meaning to. It's a great strategy RPG that has loads of content for gamers to enjoy and is an interesting tale from a point of view not often visited in games. However, the sheer amount of content and difficult battles may push some players away from the game. It's a bit generic in the graphics department with its robotic animations and also has a soundtrack that just doesn't feel right for the game.  Limited voice acting and tons of text could also be seen as a negative. At the end of the day, this game will probably only appeal to fans of the King's Bounty series or really challenging Strategy RPGs.
King's Bounty: Dark Side battles its way to 3.5 GiN Gems out of 5!