I'm all for the arcade games.
I picked up my PlayStation 4 two years ago after years of going without a system. Forgive me. I was on an international poker tour and South American baggage handlers aren't exactly tender with an Xbox.
When I first fired up the PS4 I couldn't wait to delve into all the independent content that was out there to savor. I'd grown tired of gaming trends years before. I wanted to scream at certain developers, "complexity does not make a game great!" Tetris is a timeless title because anyone can play it, but you can spend your entire life trying to master the title. With the proliferation of independent development houses, major support from Sony and Microsoft, and so many young men getting access to cheaper and more advanced development tools I knew more classics would be coming down the pipeline.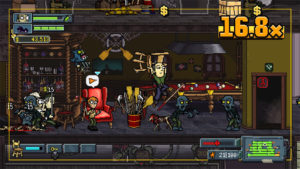 One much adored new genre was the "reworked arcade classic." This was done to perfection in Velocity 2X. The game takes a formula gamers have grown up with and loved, connected it in new ways, enabled some new fun tricks with the increased horsepower, and allowed gamers to have both accessible levels and impossibly hardcore tasks. That's quality and value.
What we have here from Webcore Games is a new entry into the arcade's rebirth. My Night Job features a young 80's looking scrub watching Headbanger's Ball in the introductory cinematic, where he sees a commercial for a mercenary service that promises to pay big bucks. After the 14 seconds of plot development our hero is whisked away in a helicopter to a haunted mansion. He is then kicked out of the chopper without a weapon, and also tasked with saving a meager 100 separate hostages from a raving mass of zombies, bats, and what look like feral cats.
Fortunately, our hero can grab practically anything and turn it into a weapon. Flower pots, golf clubs, chairs, vases, and what appears to be a bar of soap; they're all fair game. There's reportedly over 60 weapons.
After a (very) brief tutorial on the controls you're thrown into the haunted house. No problem. This is how arcade cabinets are supposed to be. A little less conversation and a little more action…let's get it on!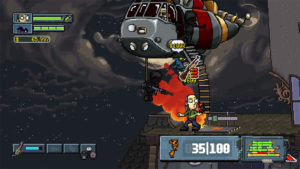 What you're greeted with appears to be a side-scrolling beat-em-up. Words cannot describe how psyched many gamers are at this point to play a cheap side-scroller. Many fond memories were created with Streets of Rage and Final Fight. None of us really knew our buddies until they had to fend off eight overweight men in suspenders doing threatening acrobatics while we frenetically searched for some street side turkey.
The graphics and audio really usher the nostalgia in. The music is well programmed. The melodic beeps and bops reminiscent of the 8-bit era is surprisingly stirring. Any Nintendo kid will feel right at home. It gets a little repetitive after a few runs, but those of us in our late 20's and 30's will likely find our rose-tinted glasses for such matters.
The graphics are beautiful. The 2D graphics are illuminated with gorgeous night textures. You're flooded constantly with frantic animations tailored to each weapon. Bashing tap dancing skeletons with a rolling pin has never before been so fun.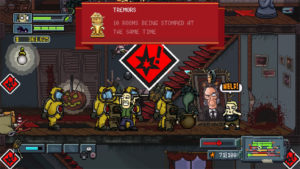 The art featured in the introduction and throughout the mansion has a sickly sweet old horror vibe. Matched with the 80's soundtrack – it's enough to send hipsters into nostalgic convulsions.
This unfortunately is when the game begins to get dour. Those of us who remember when Headbanger's Ball existed, or at least when Beavis and Butthead made fun of metal videos in similar graphics, are rearing to go at this point. Unfortunately, the gameplay just doesn't deliver.
This is your task list in normal side-scrolling beat-em-ups:
Side scroll
Beat them up
Repeat one and two
Yes, it is not exactly world changing, but it can be challenging and a fun diversion from the day.
Here is your list of tasks in My Night Job.
Side scroll
Beat them up
Side scroll backward to save a hostage
Side scroll back to defend a hostage who is inexplicably running into a zombie
Side scroll into another room. Clean it out
Side scroll and find shotgun-wielding hostage who is grateful to see you and your almighty 4-iron
Swing your 4-iron. Break it on the third Tiger Woods impression. Run back to the last room to pick up a lamp.
Side scroll back to a room 17 rooms away to prevent a rush of monsters from swelling
Your lamp breaks. Punch it out with the gurgling walking corpses, even though your punches are not very effective.
Side scroll through half the level in the next 23 seconds to save hostages on a floor where monsters are overwhelming them.
Try as hard as you can to see the baddies through the gauze of tens of hostages
Dump off your hostages at a helicopter pick-up point. Receive power-ups.
Go back and manage other rooms which have been overloaded during your job
I could go on but as you can see this is quite an arduous task. You have to manage rooms getting overrun. If the furniture gets some nasty undead stains on them the missions are over. The other 71 defenseless hostages can go rot in hell.
Some will undoubtedly really enjoy the frenzied action. Many will not.  It's a little too complex for the beat-em-up fan, and not quite balanced or nuanced enough for the hardcore.
There is also only one mansion. You go through and try to get a high score. That is it. There is nothing else.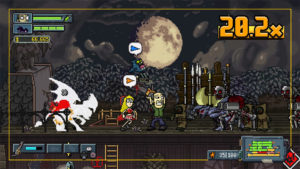 This is frustrating, because My Night Job has a lot going for it. The controls are responsive and for brief times the game is really fun. The only problem is you can never shake off the feeling that you're playing Double Dragon with innocent bystanders clogging the screen. My Night Job demands a level of practice that requires frequent runs, but it is only enjoyable in short instances. It wouldn't have been a worthy arcade cabinet because it lacks pick-up-and-play mechanics. At no point does the game explain you have to save hostages and manage the resale value of the haunted property.
That is my greatest problem with this game: I don't know who it is for. There's so many components that would appeal to someone who grew up in the 80's and 90's, but they don't come together in any cohesive fashion. There's no co-op play or intuitive goal, so it's not fun for a party. There's no additional maps or a levelling up system, so it's not for the hardcore set. There's just high scores and unenjoyable road to achieving them.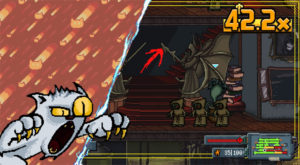 My Night Job is ultimately an unsatisfying experience. It feels like a programming showpiece as opposed to a functional game. The graphics, sound effects, and conceptual direction are excellent, but there's no balance to speak of. If you're going to toy with a storied tradition of gaming you must add, not subtract. Through adding all of these other managerial duties they have actually subtracted from the run-and-gun fighting we all love.
Try it out for five bucks if you're a fan of the genre, or play it at a friend's house, but look elsewhere for your side-scrolling throwbacks.