Mutropolis is a cleverly crafted point-and-click Indie adventure whose compelling story and sideways humor is sure to draw your attention for hours on end.
It's the year 5000. Three millennia have passed since a devastating cataclysm on earth forced the eminent evacuation of its remaining inhabitants who would move on to take refuge on Mars. Now, a geeky archaeologist, Henry Dijon, and his team of academics lead by an over-eager Professor Totel who is obsessed about the old world, travel back to the abandoned planet on a mission to learn more about their distant ancestors and to uncover the ancient mysteries of the ancient twenty-first century.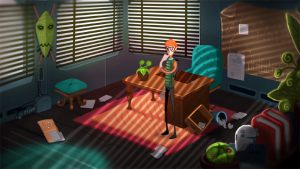 Earlier on during routine excavations the team stumbles upon an encoded mystery door. After deciphering the door they gain access to a secluded area with writings on the wall indicating evidence of a lost city of Mutropolis. It's a historic moment for the team as they marvel at their monumental discovery. The celebration is short-lived, however, as the lights suddenly go out and a scuffle ensues.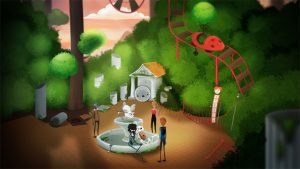 When the lights come back on Professor Totel is missing and nowhere to be found. They have no choice but to report the incident to the authorities who conduct an investigation into the matter. Weeks pass and the case seems to be going cold. Henry, frustrated with the lack of progress, rallies his science colleagues to set out with him on a personal mission to find Professor Totel, bring justice to his kidnappers and search out the legendary lost city of Mutropolis rumored to be full of hidden treasure from pre-cataclysmic Earth days past.
Mutropolis is the first game from Pirita Studio, the creative indie couple Beatriz Gascón and Juan Pablo González, based out of Madrid, Spain. The visual aesthetics of the game are nicely done featuring 50+ hand-drawn scenes, crammed with a weirdly appealing cast of 2D characters.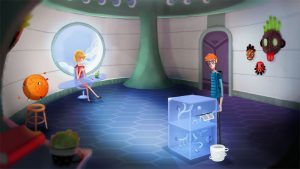 The game is fully voiced over in English with text localizations in several languages and boasts a compelling story narrative filled with an engaging plot and plenty of humorous moments. As Henry and his team explore and uncover artifacts and relics of 21st Century history, one has to admire the laughable inaccurate hypothesis the team often makes in regards to what life on earth might have been like prior to the cataclysm.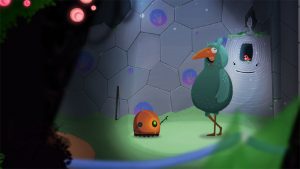 Though this point and click adventure isn't packed with a ton of gameplay hours, it's safe to say that playthrough experiences will vary from user to user depending on how attentive and witty you are when it comes to the various archaeological puzzles the game will throw your way. You will get a fair amount of helpful info during your ventures but there will be times when you literally have bread crumbs for clues sometimes making puzzle solving challenging and downright frustrating.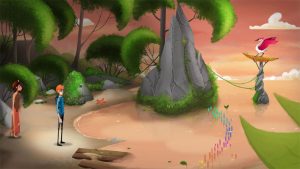 All said though, Mutropolis is a well-rounded venture that is honestly a lot of fun to play. It's loaded with solid visuals, an engrossing story plot, a cast of fun and memorable characters all backed by some really top-notch voice acting. And an added bonus, the game can be acquired at an affordable price of $19.99 on Steam. This one gets a big thumbs up here at GiN with a solid 4 GiN gems.