Over the past week I have been testing out a new keyboard and mouse from Penclic.  Penclic is a Swedish company that designed an ergonomic and functional keyboard and mouse with a modern simplistic design.  If you are like me and work eight hours a day, five days a week sitting and working at a computer and more time gaming and writing you appreciate a good keyboard and mouse.
Over the years, I have used many different keyboards for work and home, including keyboards specifically designed to be ergonomic.  None can compete with the Penclic.  This keyboard and mouse are exactly what is advertised and so much more.  Work is more productive and the level of comfort is amazing.  Why spend so much extra money and time redoing your work space with ergonomic everything when you can just purchase a simple keyboard and sit back and relax.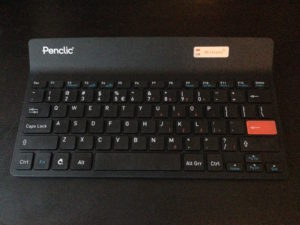 Penclic Mini Keyboard
For this review I used two workstations, a custom built gaming PC with Windows 10 and a MacBook Air with OS X 10.11.6.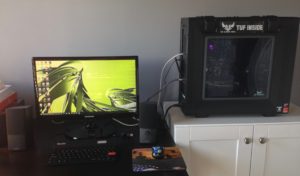 I don't have a lot of work space in my home office so having a small keyboard allowed for more room and freedom.  At 285mm x 162mm x 6mm and weighing only 381g, it's a small and lightweight keyboard, about the size of the MacBook Air keyboard.   Penclic provided the keyboard, USB dongle and charging cable, and two sets of rechargeable AAA batteries.   Because it's a wireless keyboard it works with any computer that has Windows XP or later, Mac OS X 10.1 or later, and Linux.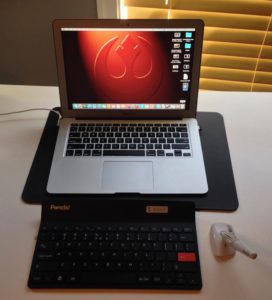 The Penclic keyboard is flat except for the back which inclines up giving extra support to the keyboard.  There are also two kickstands underneath allowing users to have a slight incline when working.  I personally like the stands, just the slight rise makes a difference in added comfort while typing.  On the top of the keyboard is a battery indicator.  There have been many times when I have been using a wireless mouse or keyboard and they suddenly go dead.  With the Penclic the battery indicator turns red when there is low battery life.  Just plug in the USB cable and continue working.  It's very simple and saves time running around looking for extra batteries. The other added bonus is the lack of drivers to install.  I was easily able to switch from my PC to laptop without waiting for drivers to install, a simple plug and play keyboard.
[amazon asin=B00BVTN0ME&text=Give your fingers a break and try out the Penclic keyboard from Amazon]
The keypad has all the standard keys found on a normal sized keyboard. Penclic keys are quiet and soft to the touch.  Not as mechanical as the stiff keys of a traditional PC keyboard.  With the Penclic, I can position the keyboard in any fashion to make typing comfortable.   There is no traditional numpad, however, the numpad functions exist on other alphanumeric keys. This came in handy when working on the Mac as that keyboard has no numpad functions.  All other normal keyboard characters and numbers are present.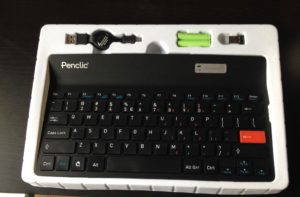 Normal typing seems to be much easier on this keyboard than my standard keyboard.   Because of the size, keys are placed in a fashion that allows a user to press keys quicker with less movement in wrists and fingers.  The lettering on the keyboard is large making it easy for all users to clearly find buttons, and icons are simplified for ease.  I absolutely adore the little Penclic icon in place of the windows icon.  Again important buttons are positioned to reduce the need for too much movement and reaching.  I find that having a compact keyboard also improves work efficiency.
Its wireless but as mentioned before it does require the rechargeable batteries.  When first setting up the keyboard users need to first charge the batteries through a USB cable.  The good news is that the keyboard is fully functional while charging.
Because of its size and its wireless you can place it in any position that makes the user more comfortable.  This keyboard not only works with multiple computers, but also different computer uses.  It's very comfortable and functional when typing long hours or everyday tasks like surfing the net.  It also performs extremely well when gaming.  As one of the test workstations is a gaming PC I had to do some hardcore gaming with the keyboard.  I am impressed with the response time of the keys and games played very well.  This little keyboard actually outperformed my old keyboard not only by responsiveness but also the added comfort of quickly changing keyboard positions.   After hours of game play I was still feeling good with no wrist strain.
Comfort makes this a great keyboard, and not just the keys being softer but the versatility of the board.  With the ability to move the board to any position you create the comfort.  This keyboard is amazingly lightweight for easy portability and travel and a perfect accessory for laptops.
Penclic B2 Bluetooth  Mouse
The Penclic mouse is a Bluetooth mouse, which like the keyboard uses rechargeable batteries.  This one I tested on the MacBook Air.  At first it took some time for the Bluetooth to connect, but after initial set up it would automatically connect after restarting my computer.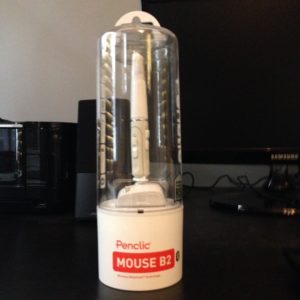 The mouse has the traditional track with wheel with a stylus coming from the top.  This stylus has five buttons to open and close pages and act as left and right mouse buttons with a middle click button.  The track wheel scrolls up and down pages.  It moves and is held like a stylus but works like a mouse.  This provides for a more natural feel with ease of motion.  It performed well with typical computer tasks and the mouse glides nicely with a smooth flow.  It is also very lightweight and you won't feel as if your using a mouse.  The buttons are well placed for added comfort and ease of use.  It feels like using a pen rather than a mouse.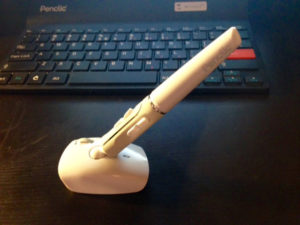 As with the keyboard the mouse is extremely light, small, and versatile.  It's not weighted down like a normal mouse.  The grip was very light and requires very little pressure to move.  This allows for less strain on the wrists.  My grip on the mouse was less than a regular pen or stylus.  It's not for gaming, but it is the perfect mouse for everyday work.  This could considerably improve productivity in office environments, school work, or just home use.  The same goes with the keyboard.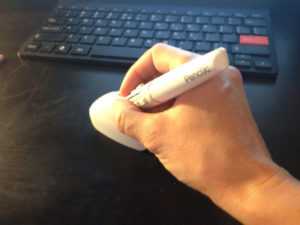 I would recommend this keyboard and mouse for everyone who works long hours at a computer and are concern with repetitive strain injury and  work productivity.  It's perfect for both office and home, and if you travel a lot for work the size and weight of both devices makes them very portable.  Two great versatile devices that can improve people's lives. Penclic also provides simple yet easy to follow instruction guides making this such a delight to use.  The design and versatility is perfect for all users. If your in the market for a keyboard and mouse take a good look at the Penclic,  it might be the only keyboard and mouse you will ever need.