When Fallout 4's DLC and its accompanying Season Pass was announced, it was originally planned to have three parts. We've already enjoyed the robot combat of Automatron (as well as creating a robotic partner) and the Wasteland Workshop added some nice features to improve my settlements. But then the main course of the first wave DLC came out with Far Harbor. As someone who loves a good long expansion quest in the Fallout universe, it was the DLC that I looked forward to the most.
And eventually, it ended up as what might have disappointed me the most. Don't get me wrong. I didn't hate Far Harbor, but there were a lot of elements that ended up preventing Far Harbor from reaching the great lengths of third DLC among the ranks of Broken Steel and Dragonborn. But let's start from the beginning.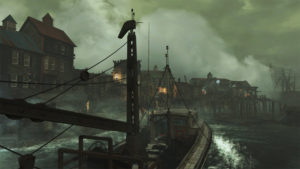 Far Harbor begins with a case assigned to you by Nick Valentine. In it you meet up with the Nakano family, whose daughter Kasumi has disappeared. Feeling a devotion towards technology, Kasumi starts to question if she is a synth and to find out, she travels to the island of Far Harbor, Maine. The Sole Survivor arrives to Far Harbor Town to locate her, but is initially rejected by the mariners who live there as an outsider, but eventually meets up with a guide to take him to a synth refuge called Acadia and its leader, DIMA.
Book your vacation to Far Harbor today with a code from Amazon!
Far Harbor is protected by a mysterious radioactive fog, which the townspeople blame the Children of Atom for, and wish to eradicate them and their settlement of Nautilus. As a result, the heart of Far Harbor's story centers on these three settlements as well as trying to return Kasumi back to her parents.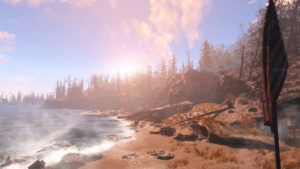 A majority of the story involves investigating the three settlements in typical Fallout fashion. But sadly, something was added to this DLC that brings the whole experience to a screeching halt. I am going to do my best to avoid spoilers for those who haven't played yet, but I will try to explain as best as I can. To get more information about the mystery, the Sole Survivor needs to access critical data by jacking into a network. The result is a minigame puzzle that I call a cross of Minecraft meets Lemmings. By placing and moving blocks, a laser must be lined up to break down walls, and then blocks must be placed to allow data clusters to be picked up and returned to your access point. The whole experience ended up as a very frustrating, very tedious piece of busy work, and the last segment just became overwhelming.
I might not have completed it myself if it weren't for me leaving the simulation by accident, then going back in to find it was completed. I really wish that it wasn't included because it really dragged the game down.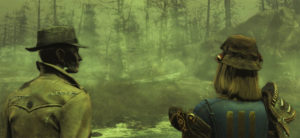 That was just the start of my disappointment. Upon "completing" the puzzle segment, the rest of the game turned into one of the most depressing, most hard-hitting endings I have ever seen in the Fallout universe, and keep in mind I left my son to die in the main campaign. Again I won't go into details for spoilers sake, and it was one of the reasons why this review took so long to write, but it really was a huge letdown for me.
In addition, with the addition of the radioactive fog, comes a hit in game performance. While I played on the Xbox One, I heard about how the PS4 version would drop as low as 15 frames per second. There were claims that the X1 version performed better but at times it felt about the same, as well as the game locking up on me once. It didn't break the game but it did become a bit distracting.
But all is not doom and gloom with Far Harbor. As I said before this is a whole new area to explore, which I am more than happy to do, and even after the ending I kept going back to explore. The main quest is about ten to 12 hours and there are also several other smaller quests to take part in. You can also build up new settlements around the island, and yes, you can link your main supply line back to The Commonwealth, so all your towns, both in the DLC and back home, can share resources.
But I have to ask, if you don't have the Season Pass already, is Far Harbor really worth $25? I'd say no, especially if you don't like busy work puzzles. Maybe when the price of the DLC goes down to $15 then I might recommend it. And of course, if you have the Season Pass, it's a moot point. I would rate Automatron over this DLC, but I still like it more than I did Wasteland Workshop. Granted the next huge expansion might end up being Nuka World in August, it's going to be just creation based updates until then (Contraptions Workshop and Vault-Tec Workshop.)
I guess after being disappointed with Far Harbor, it looks like I'll have to live on mods until Nuka World comes out.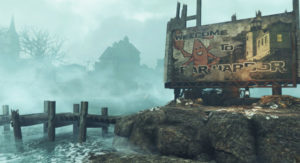 Pros: A whole new separate land mass to explore. Conflict between three settlements is the heart of the story. New mariner based armor, as well as a new harpoon based weapon type and a new powerful lever-action rifle.
Cons: The way the DLC ends might be a bit on the depressing side. Location based fog resulting in performance issues. $25 might be a bit too much for this content if you don't already have the Season Pass. The Minecraft meets Lemmings puzzle drains the fun.