Note: Darksiders 2 and its add-on content were originally developed by Vigil Games and published by THQ. Gunfire Games consists of many developers who worked on Darksiders and Darksiders 2, including David Adams, who founded both studios.
The game was reviewed on an Xbox One.
Take a helping of Devil May Cry's fast-paced combat, a dose of The Legend of Zelda's puzzles, and sprinkle in a hint of Prince of Persia's platform elements and what do you get? Answer: something that looks a lot like Darksiders 2.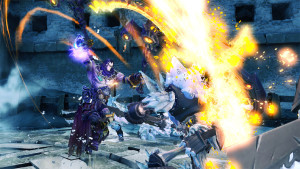 Originally released in 2012, Darksiders 2 was the follow-up to the critically acclaimed first entry in the series. With Darksiders 2: The Deathinitive Edition, all of the raucous action and its DLC have been collected in one package with enhanced graphics.
[amazon asin=B013LIFM1Y&text=Get Darksiders 2 The Deathinitive Edition from Amazon!]
The remastered version of the game doesn't try to reinvent the wheel; Darksiders 2 was a great game to begin with, so there was no real need to tinker with it. That said, anyone who missed it on the first go around or is looking to dive back in for another run is going to find a lot worth liking here.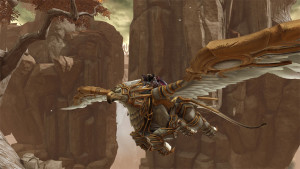 The story revolves around Death, one of the Four Horsemen of the Apocalypse, and runs concurrent to the original Darksiders story. Rather than fitting into the tropes of classic interpretations of the Grim Reaper, Death is a sarcastic, confident, no-nonsense antihero. Those qualities, combined with superb voice acting and a drive to clear his brother's name of a crime he didn't commit, give Death a complex, intensely likeable quality.
The story takes players across a multitude of environments, pitting Death against enemies of all shapes and sizes. Piles of loot and varied weapons keep the game fresh, but it's the addictive combat that gets you hooked.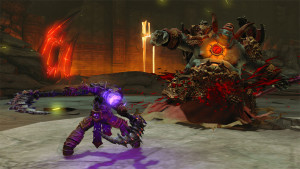 Anyone who played the first entry in the series will recall that War was a lumbering, powerful bruiser of a character. Death stands in stark contrast as a lithe, agile, fast mover who can handle hordes of enemies at once while dashing in and out of range.
Great combat blends with clever puzzle and platform elements to deliver a game that's greater than the sum of its genres. Positively gorgeous environments and vivacious colors adorn every inch of the screen, creating a mystical ambience that could have been pulled straight out of mythology.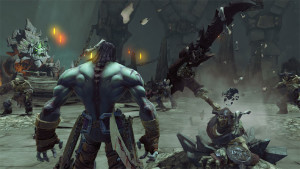 So with a remake of a game that was well-reviewed on last-gen consoles and stands as a great collection of content, why only a 3.5? Unfortunately, somewhere in the process of upgrading the game to current-gen consoles, Darksiders 2's frame rate got left behind.
In the early stages of the game, frame lag isn't too much of an issue, usually only popping up outside of combat, during puzzle elements or while transitioning from one area to another. But as more and more enemies enter the fray and fights become huge affairs, the issue begins to affect timing and overall playability.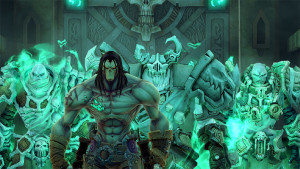 Strangely, the only other issue I found in the port related to character textures, which didn't always seem to render properly. It wasn't a huge issue, but it was strange that neither the texturing or frame rate appear to have been issues on the 360 version.
Issues aside, the frame lag isn't game breaking, and Darksiders 2: The Deathinitive Edition is well worth the time to play for anyone who didn't catch it a few years ago.
Darksiders 2: The Deathinitive Edition earns 3.5 GiN Gems out of 5.