Hey all I'm back with a new series from a relatively new author that I've covered in the past for the good people at Audible. It's William Wilde and the Necrosed by Davis Ashura!
Plot Synopsis: On a cold winter's night, just shy of his 17th birthday, William Wilde became an orphan. It was a simple car accident that claimed the lives of his family. Eight months later, at the start of his senior year of high school, a beautiful, mysterious girl enters William's life. Captivating and confident, she holds secrets about William's heritage, secrets of which he himself is unaware…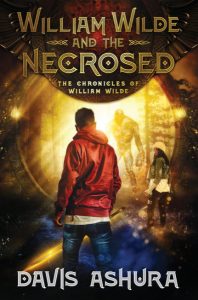 Plot: The plot is fairly good, although there were some twists that I personally saw coming, there were a couple I didn't. The former isn't something new for me, I do it all the time with 90 percent of the stories I read or otherwise experience, but the latter is a rarity. That being said this isn't the most spectacular series I've ever read, and to be honest I enjoyed Mr. Ashura's previous Caste and OutCaste series more than this. However, this wasn't a bad experience and I will say I'm curious to experience the sequel in a few weeks when it releases on Audible.
Enter a new world and a new series with William Wilde and the Necrosed with a copy from Amazon!
Characters: The entire cast is pretty good, although the main antagonist runs straight into so many clichés that I'm a little surprised.  That isn't to say the cast is bad, it's okay, but it's not the most entertaining one I've ever read or listened to by a long shot.
Audio: I've been a fan of Nick Podehl ever since I first listened to The Kingkiller Chronicle series. So I was quite excited to learn that he did the narration for this. While he's done many other series, some of which I've listened to, this was one that kept reminding me of Kingkiller the most out of all of them. That isn't necessarily a bad thing, but I kept imagining characters looking like completely different characters from a completely different series at times. It was a little distracting. Take that as you will, I personally didn't find it a bad thing overall, but it could be something that others don't enjoy.
Overall: A solid Urban Fantasy tale mixed into a High School drama.
For those who like: Urban Fantasy, Action, Adventure, Drama, School Settings, Good Plot, Decent Cast of Characters, Excellent Narration.
Not for those who don't like: Any of the above.