The explosion of Role Playing Games (RPG) and its present emphasis on character and story over hack and slash brings the need for players to invest in backstory. This book is an investment in that process. This author has the background to give the reader some great tools in that endeavor.
James D'Amato trained at the famous Second City in Chicago, where Tina Fey wrote and performed along with many other greats like Amy Poehler, Jim Belushi and Ashley Black. This training pays off in the writing style of the book, where specific questions can lead to a special twist on creating a character.
He is also the creator of the Oneshot podcast where people appear for a one off adventure rather than a long campaign. This no doubt led to how the book is organized. It doesn't just address creating to a character at first level for a long campaign, but it looks at how you can create or just deepen the background of an advanced character. Something done for a one-shot adventure or a specific module that requires a certain level.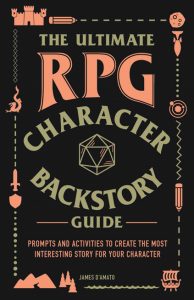 The book divides itself into three sections; Humble Beginnings (for Levels 1-7), Veteran Heroes for (Levels 8-14) and Myths & Legends (Levels 15-20). Inside each section are exercises, choices and random tables. These are clearly laid out with ideas that match each section.
Humble Beginnings explores common character choices like Orphan but has surprising ideas like, Five Things You Packed but Shouldn't Have and Magic Mirrors (dark desires of your character). It goes in depth with on the familiar "Where I'm From"- for prompts on how people socialized in you home village or city.
[amazon text=Build some character with a copy of The Ultimate RPG Character Backstory Guide from Amazon!&asin=1507208375]
Veteran Heroes holds some of my most favorite material. "Wed, Bed or Behead" comes from a more familiar game and adds fantasy beings to the mix. "The One that Got Away" creates a person from your character's past that any GM would love to use. "I Know You from Somewhere" is a short but cool 'choose your own adventure' segment that constructs a memory for you to use later. "Campfire" does the same thing. I know a whole book of these would be very popular.
Myths and Legends gets into some of the toughest levels to roleplay. The dreaded upper levels where you are roll over every normal threat but your very existence draws epic challenges. Physical threats to your character's life give way to metaphysical concerns about the world. This book gives you some ideas on how to explain why such a strong character exists and why they are still engaged in adventures.
"For the Myth that has Everything" directly challenges these concerns. It goes about showing how the right gift can reawaken the spirit of adventure, conjure up nostalgia, apologize for a past wrong or make for a new challenge. "Terror of Wisdom" brings up what special knowledge such a character would have and how it could haunt them.
There are some segments that GMs could and should use; "Wanted" constructs a rich wanted poster for NPC that would be a great basis for a multi-session adventure, "It's More than Personal" a primer for making a villain, "It's my Distinct Pleasure to Announce" sets the scene for a gala. "A Cutlass Carol" takes Dicken's Christmas Carol and places your character in it. To have a super powerful character be the Scrooge to spirits of the Past, Present and Future is a great idea and the idea is explored in great detail and humor.
This is a great book for any player of RPGs and can be a valuable resource for those that act as a Game Master. Much of this book is addressed in the third person and it gives the feeling of a great attentive Game Master working out character creation you the reader as the player. We should all be so lucky to have such a GM and we should all be such thoughtful and creative players.