Hey all this week I'm back with a very different novel than the ones I've been doing for a while. It's Wildest Dreams, Book 01 of the Fantasyland series, by Kristen Ashley!
Plot Synopsis: Seoafin "Finnie" Wilde was taught by her parents that every breath was a treasure and to seek every adventure she could find. And she learns this lesson the hard way when they perish in a plane crash. But she never forgets, and when she discovers there is a parallel universe where every person has a twin, she finds a witch who can send her there so she can have the adventure of a lifetime. But upon arrival in the Winter Wonderland of Lunwyn, she realizes she's been played by her twin…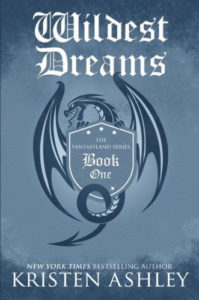 Plot: The plot is pretty good, although there are sex scenes. Frankly those took away from the adventurous spirit that made this book good. It was a bit disappointing, but paranormal romance fans will probably enjoy it. Personally I wasn't reading Wildest Dreams for that though.
Characters: Finnie is a thrill seeking female lead who can be girly, and still do really bad ass things if she wants to. It was an interesting dichotomy between two character archetypes that generally don't mix. But Miss Ashley was able to do it well. The rest of the cast is quite good and our male lead, Frey, was a pretty neat guy. That being said he's not a favorite character, but I'll leave the why for you to find out. Of all the side characters, Aurora was my favorite for her cool demeanor that hid a sense of wit and grace that was appealing.
Book your own trip to the Winter Wonderland with a copy of Wildest Dreams from Amazon.
Overall: Fantasy fans will enjoy this book, if they don't mind the sex scenes. Paranormal Romance fans will probably enjoy the hell out of Wildest Dreams.
For those who like: Paranormal Romance, Fantasy, Drama, Action, Magic, Interseting Cast of Characters, Good Plot.
Not for those who don't like: Any of the above, or sex scenes in their Fantasy novels.