Hey all! I'm back with the sequel to The Battle Begins! It's Friends and Foes, Friends and Foes, Book 02 of Bushido Online, by Nikita Thorn!
Plot Synopsis: Now a Level 10 Ronin, Seiki is slowly coming to terms with the death of Master Tsujihara and his new life in Shinshioka. Spending his days in the Wilderness, he's venting his remaining frustrations while staying away from the city drama and those griefers, like the Rogami Clan, who had made his in-game experience so challenging thus far. He has even taken up a trade skill. But when he's presented with an offer he can't refuse and accepts a simple mission to deliver a message to Kano Castle, he quickly finds his troubles are only just beginning…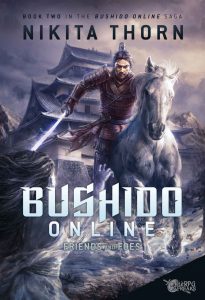 Plot: The plot is pretty good, although I still felt the emotional roller coaster of Tsujihara's death while listening to this. That's not a bad thing necessarily, but others may want to take a breather in between books. While I won't go into too much detail of the plot, I will say that it was nice to see how things in the real world were tied almost entirely into the game.
Experience why RPGLit books are so popular with a copy of Friends and Foes from Amazon!
Characters: While there are new faces, I was more pleased to see other characters who had been left by the wayside in the first book rather abruptly show up again. People like Mimura and his Clan, whom I always felt were kind of funny if a bit uptight.
Overall: A solid entry that left me wanting the next book to be released and narrated immediately.