Editor's Note: This is our second review of Pathfinder Tales: Through the Gate in the Sea. Check out our other review. 
Hey all. I'm back with another Pathfinder Tales book! It's a sequel to a book I haven't read yet so you'll have to bear with me. It's Through the Gate in the Sea by Howard Andrew Jones, Book 02 in the Mirian Raas series.
Plot Synopsis: Deepwater salvager Mirian Raas and her bold crew may have bought their nation's freedom with a hoard of lost lizardfolk treasure, but their troubles are only just beginning in this sequel to Beyond the Pool of Stars. When Mirian's new lizardfolk companions, long believed to be the last of their tribe, discover hints that their people may yet survive on a magical island, the crew of the Daughter of the Mist is only too happy to help them venture into uncharted waters.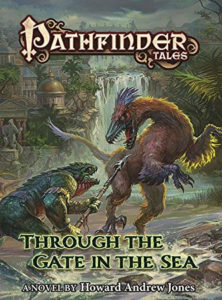 Plot: The plot is pretty awesome, I really enjoyed it although I didn't read the previous book that introduced many of the characters, I still had a great time reading this entry. Like other Pathfinder Tales books I've reviewed I found this to be a much more mature take on the classic D&D books from the 90's and 2000's that were such a hit in the Fantasy scene back then.
[amazon text=Pick up this amazing adventure with a copy from Amazon!&asin=0765384388]
Characters: Mirian is our main character, but not the only PoV we get in the book. We get other characters PoVs as well, Ivirian being my favorite other than Mirian. Of all the characters, Jekka is probably my favorite due to how much of a learned person he is. The rest of the cast is great as well, but I feel like I missed out on meeting them by not reading the first book.
Overall: If you love the other Pathfinder books, Through the Gate is going to be just your cup of tea. A must read for any Fantasy fan.
For those who like: Games, Pathfinder Tales, Fantasy, Action, Adventure, Magic, Excellent Plot, Fantastic Cast of Characters.
Not for those who don't like: Any of the above.