Hey all I'm back with the final book to the sequel series to The Pillars of Creation. It's Destiny of Dragons, Book 03 of the Legacy of Dragons Series, by Jack Campbell!
Plot Synopsis: Ancient weapons of mass destruction lie hidden under the city of Pacta Servanda. Remnants of the Great Guilds and rebellious factions of the Empire want to seize those weapons to allow them to regain control of the world of Dematr. Only Jason, brought by the first ship from Earth since the colony failed, might be able to disarm the threat. But he also might know how to employ those weapons, making him a danger for all sides. Standing between those threats is Kira of Dematr. But Kira, who inexplicably has been able to manifest Mage powers as well as technical skills, finds herself being consumed by the mental conflicts between those powers and skills.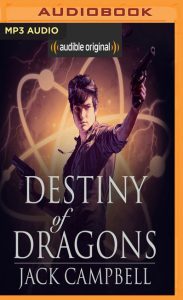 Plot: This is a great ending to this sequel trilogy, but with enough hints that we should be getting further books in the overall series. I sure hope so because I've not had enough of Master Mechanic Mari and Mage Alain and their family.
This is how you do a trilogy right. Pick up Destiny of Dragons from Amazon today!
Characters: This being the final book in the trilogy, there are some new faces, but I'll leave you to determine your favorites. That being said my favorite characters are still Mari and Alain. The rest of the cast is great though, with plenty of familiar faces from prior books showing up.
Overall: A solid ending, with enough hints that future books will be coming for this universe. I personally can't wait for those books.