Zoinks! The Mystery Inc. Gang has another thrilling puzzle to solve! Releasing today, Betrayal at Mystery Mansion, a new board game based on the critically-acclaimed Betrayal at House on the Hill, lets players explore the mysterious mansion as Scooby-Doo, Shaggy, Velma, Daphne, and Fred. Players discover clues, investigate spooky stories and maybe even unmask a monster! Betrayal at Mystery Mansion is available in stores everywhere starting today, July 24, 2020.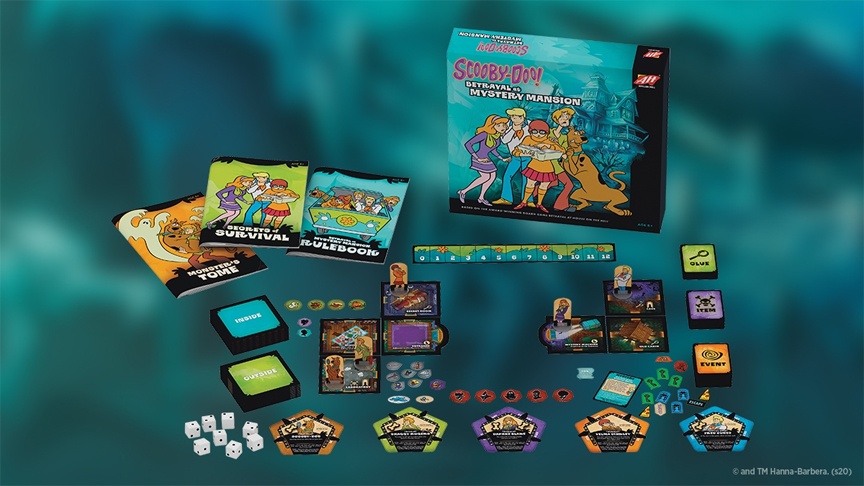 Designed by the team behind Betrayal Legacy, Betrayal at Mystery Mansion is more exciting than a double triple-decker sardine and marshmallow fudge sandwich, including all new inside and outside tiles, Item, Event, and Clue cards, tokens, and 25 brand-new haunts based on classic Scooby-Doo episodes and movies. Once players find enough clues to learn what's really going on, the haunt begins and one player switches sides to play the role of the Monster. Those meddling kids then try to stop them before they carry out their sinister plan – hopefully pulling off the mask to reveal it was Mr. Wickles the whole time!
"From the beginning of this project it was clear how organically the worlds of Betrayal and Scooby-Doo blended together to make an accessible new addition to the beloved board game series," said Rob Daviau, a co-designer of Betrayal Legacy and Betrayal at House on the Hill who acted as a consultant on the project. "We couldn't be more excited to introduce a younger audience and new Betrayal players to the spookiness and mystery that the series is known for with a game that can be played time and time again."
Betrayal at Mystery Mansion is now available everywhere, including Amazon, Walmart, and local game shops and retails for $35. For more information about Betrayal at Mystery Mansion, visit AvalonHill.com.