2022 Trends To Look Out For
John Vitti is an entrepreneur and the CEO of VersusGame, an entertainment prediction-based gaming app that puts trending topics about celebrities, pop culture, sports, entertainment, food and more head to head in a classic "this" versus "that" competition. After successfully launching and selling three companies within the consumer space, John's entrepreneurial drive led him to his latest venture, VersusGame. Since its launch in 2019, VersusGame has grown significantly, with over $17 million in cash prizes to more than 9.5 million players.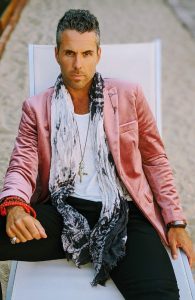 The entertainment world has always been one of the most sought after places to be. Filled with glitz, glamor, A-List activities and VIP events. But, in the blink of an eye, the world froze, and the Pandemic sent the famous from the red carpet to the plush carpets in their homes. Regardless of money and a popular name, no human stood exempt from isolation. Suddenly, celebrities found themselves having to pivot and find new ways to monetize their brands and stay connected to their fans.
We witnessed the power of "digital entertainment" emerge as our favorite celebrities put on virtual concerts all over social media. From the comfort of our homes, we were singing along to LIVE online events put on by John Legend, Pink, and Keith Urban to name a few. They did it to engage with their fan base, but they were also looking for new ways to continue their cash flow. Forbes reports that from 2019 until now, the top 100 celebrities report losing $200 million dollars as a result of the pandemic. It's obvious as to why we continue to see an outpour of creativity from the stars we adore.
However, social media and private online concerts were not the only avenue that celebrities and entertainers tapped into to drive additional revenue. Believe it or not, they plunged into the growing world of gaming and many are still loving it. Widely due to the ability to make serious cash. Matter of fact, there's a predictions app in which an influencer just made 1 million dollars in a year. With 100,000 new users joining per week, many are flocking to be a part. It's a brilliant concept in that it rewards players for their knowledge about pop culture, entertainment, and more. The celebrities are responsible for creating content also known as "polls" which gives them the opportunity to interact with their fans and gain revenue. We're seeing top stars like Jason Durelo, Noah Beck, and Josh Ricahards take part in the action. The game is getting so much buzz that it's beating out the monthly profits that influencers receive from YOUTUBE.

Now that 2022 is here, it's going to be crucial that the gaming world gears up for it's new trends. Especially with all the rage from celebrities and content creators ready to monetize and have a ton of fun doing it. Some trends to prepare for are the increased diversity in games. In fact, 65% of women  in the US play mobile games. There's also an increase in the elderly population trending to be more active in the gaming platform. In addition, get ready for players expecting free downloads. There's a new trend called "freemium". It will give the users the ability to download premium games for free through in-app purchases.
John Vitti from VersusGame, a leading gamification platform that has rewarded people with more than 17 million dollars simply for being right, had this to say about what to expect in 2022….
Celebrities and content creators will continue to look for effective ways to engage their fans in a strategic effort to drive monetization. Here are the few ways;
"Play to earn" is going to be HUGE.
"Play to earn" will continue to be one of the driving forces when it comes to downloading gaming apps. The ability to win money while escaping boredom is intriguing not just to gamers but it's also enticing to celebrities. Whether you're getting rewarded for your knowledge, or getting paid for creating "polls", it's simply fun to make money while you play.
People are going to use games to monetize their meta/web 3 brands.
The more visible a brand is, the more people are likely to purchase their product or service. That's why we're going to see meta/web 3 brands partner with gaming technologies. With the gaming world being one of the fastest growing virtual arenas, it's a great environment to expose a brand to the millions that play every day.
NFT games (own what you buy in the game) and online casinos will trend up.
When it comes to gaming, the NFT (non-fungible token) is the new craze. None of them are the same and their uniqueness makes them a hot commodity for gamers. We can expect to see some of the gaming heroes people love being made into original digital collectables. It's an innovative way to make money for both the gamer and the developer.
It's clear that the gaming revolution is forecasted to present many opportunities for celebrities to monetize and stay relevant. During your next game, you just might see your favorite celebrity playing with you. Gaming innovators are achieving great success bridging the gap between the public and their role models. The concept couldn't be more timely during a time when people are still apprehensive to enter stadiums, sporting events, and theaters. Not to mention, the need for additional income. Celebrity gamers and app users alike will have the ability to earn cold hard cash.
As we prepare for 2022, we will see many newcomers enter the world of gaming while long-term committed fans enjoy the new upcoming trends. There will be something for everybody. Not to mention the ability to give to players the universal thing everyone loves, money.