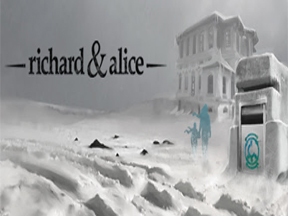 Indie collective Owl Cave and UK independent publisher Mastertronic are thrilled to announce the acclaimed point-and-click adventure game Richard & Alice is available today on Steam.
Richard & Alice tells the story of two inmates in a curious, future prison, set in a world where years of heavy snowfall have caused chaos and disorder around the globe. Investigate the circumstances of their incarceration and discover the secrets hidden within as the complex narrative unravels and you become immersed in this dark and powerful tale. You are forced to question your own personal journey and perception of what is 'right' and 'wrong' in this haunting account, and ultimately, how well do you know yourself and what would you do to survive?
Richard & Alice, the debut game by games PR specialist Lewis Denby and Starbound lead writer Ashton Raze, is an absorbing, story-driven tale about family, loneliness, desperation and the weather – set in a post-apocalyptic world. Previously on Steam Greenlight, the game has been upvoted by the community and is now making waves on Steam with new achievements, trading cards, badges and emoticons.
There are secrets, lies and lots of snow.
Lewis Denby from Owl Cave commented: "It's a great thing to see Richard & Alice on Steam. This is a game we decided to make because we wanted to explore character stories in video games, and the original plan was for a small game we could make quickly and move on from. But now here we are writing quotes for the Steam release PR campaign. It's quite something!"
Ashton Raze from Owl Cave added: "I am very excited to see Richard & Alice on Steam, because it meant I got to design trading cards and emotes. This was a lifelong dream of mine, and finally that dream became a reality. The game being on Steam in itself is exciting but TRADING CARDS! Seriously. The achievements were right fun too. You'll not find things like this in a novel."
Stuart Morton, Executive Producer at Mastertronic, said: "It has been an absolute pleasure to have helped Lewis and Ashton bring Richard & Alice to Steam. This is a superb story beautifully executed and we're thrilled to get the game out to a much wider audience for all to enjoy."
Richard & Alice is available now on Steam and Get Games for Windows PC