The Amazing Las Vegas Comic Con is set for June 23rd through the 25th at the Las Vegas Convention Center in Nevada. This yearly geekathon has been growing for years and attracts huge crowds, looking for their fill of pop culture.
Tickets, Hotel & Transportation
First things, first. You need to RSVP to the Las Vegas Comic Con event page on Facebook and make all of your friends wildly jealous about your adventure. Second, make sure you get you before, GASP!….they sell out. Ticket prices vary depending on the days you plan on attending, and VIP packages are available. General Full, 3-day admission, is $60 and is the best value in my opinion. Hotels can also sell out quickly near the convention center, so time is of the essence. Beware of hotels that have low prices, but tack on "resort fees". Transportation in Vegas has improved over the years. Uber and Lyft are now available in Las Vegas, and there is a designated area at the airport for ride shares. The Las Vegas Monorail is a very affordable option and can drop you off directly at the Convention Center. Make sure you plan to leave your hotel early, to avoid crowds.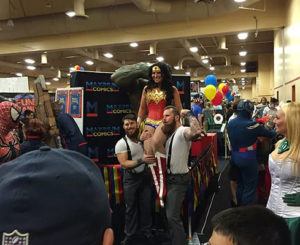 Get Your Mind, Body & Soul Ready!
With all the excitement in the air at Comic Con and the nearby casinos, it's easy to overdo it. Plan for plenty of rest before, during and after your trip. Before your journey, you can play real casino games to test your luck and skill before departure. The Las Vegas Comic Con is also in the middle of some of the most intense heat in Nevada. Temperatures can clock in at over 100 degrees during the day. Stay hydrated, practice good hygiene, do your research and you will have a blast!
Don't Miss These Guests
The Amazing Las Vegas Comic Con has an impressive line-up of guests this year. Todd McFarlane, creator, and genius behind Spawn, Rob Liefield, creator of Deadpool and Ray Park, the actor who is most famous for playing Darth Maul in Star Wars: Episode I – The Phantom Menace, Snake-Eyes in G.I. Joe and Toad in X-Men will be in attendance! Keep in mind that special packages (which are limited!) will need to purchase so that you can interact with your favorite heroes.