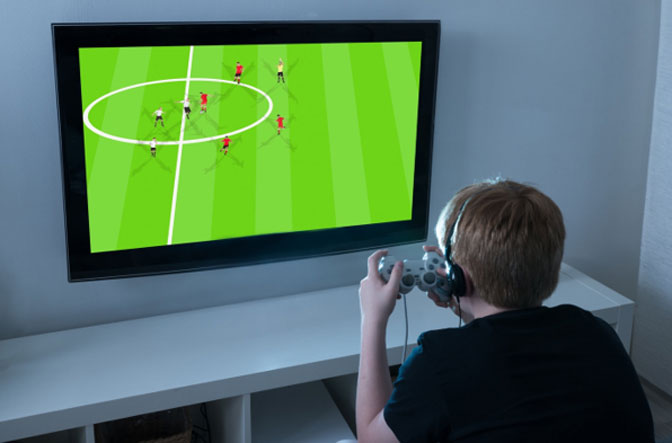 Gaming is a hugely popular way of relaxing in your spare time, and it has grown in the last couple of decades. Once seen as something of a niche hobby for bedroom geeks, it is now much cooler and more mainstream. This has seen the video game sector hit new heights and generate almost $180bn in 2020.
From mobile play to celeb gamers and better tech for people to play on, there are many reasons for the success. Of course, the games which people can play also make a big difference – not only because they look and sound better but also because game developers make games based on popular themes. Nothing illustrates this more than sports games.
Sports are simply huge around the world. Soccer, for example, is said to have over three billion fans globally, while football or basketball also have large fanbases. Just as keeping up with the latest gossip is vital for gamers, finding the latest sports news is essential for these fans too. If you like to follow sports, then The Game Day is an excellent website for sporting news. It brings together all the information you need, including a bet of the day. The site has all the top sports around in one handy-to-read place online. While the upcoming NFL or basketball season might be top sporting news right now, the forthcoming yearly cycle of sports games is a top priority in gaming.
But what might we expect from each new edition of top sporting game franchises in 2021?
FIFA 22
A new edition of this series was confirmed at the EA Conference in May 2021, and it looks likely that FIFA 22 will come out in late September 2021. This promises to be a massive year for the franchise due to fans being underwhelmed by the last few offerings. EA has promised real innovation in FIFA 22, and they must deliver this to bring fans back on board.
But what sort of things can players expect to see? As you would expect, the level of detail in FIFA 22 should be fantastic and will hit the mark in terms of player likenesses. While not every player had a true likeness last time out, it is hoped this has been resolved for the new edition. In terms of leagues, it appears that nothing new will come into play, and it will be the same set of leagues as FIFA 21.
Cover art is always a big deal for this franchise, but nothing has been confirmed on this subject. Although Dortmund's Erling Braut Haaland is tipped, many predict that Marcus Rashford could make it for his on and off-pitch exploits. For most players, though, it is gameplay improvements that will be the most pressing concern. This means upping the in-game AI to give it a more immersive feel is critical. Many are also looking for EA to slow down the gameplay a little and dial back the emphasis on pace or power.
Madden NFL 22
The next major sporting video game franchise which usually gets a Fall update is Madden NFL. This game has sold millions of units over the years and has really come on over time. But what might Madden NFL 22 have in store?
Running the rule over this title is a little easier as there is more confirmed information from developers EA about it. The cover stars, for example, have been set as iconic QBs Tom Brady and Patrick Mahomes. The release date has also been set, and we will see it hit the shops on 16th August 2021.
Perhaps the biggest news is changes made to Madden's Franchise mode. It has been confirmed, for example, that there will be more in-depth staff management in Madden 22 and a comprehensive weekly strategy for games that goes into your game plan. There have also been new scenarios added to the regular and off-season for players to navigate. EA has also added a Live Service update which will drip-feed game improvements throughout the following year.
EA has also come up with a dynamic gameday mode to impress players. This combines more realistic player AI with next-gen player stats and a cool Home Field Advantage modifier to recreate the atmosphere of real NFL games. The Yard proved a hit in Madden 21, and this gameplay feature is back again in 22. Face of the Franchise game mode also makes a comeback, but this time with more customization.
NBA 2K22
As well as awesome video game and movie tie-ins, games based on sports are also hugely popular. The last really big video game sports franchise to prove this is the NBA 2K series, and a planned launch in early September 2021 should see it sell well again.
No cover art has been confirmed yet – although rumors of Luke Dončić, Bradley Beal, and Jokić all abound. For fans of this game and the NBA in general, each player's rankings always cause debate. It is thought that LeBron James will retain his number one ranking (as in NBA 2K21), with others like Kevin Durant and Steph Curry also ranking highly again in 2K22.
But what about gameplay updates for players to enjoy? The simple truth is that, as yet, developers 2K have not been forthcoming about any fresh features. It is likely, though, that previous tweaks in 2K21 (such as advanced pro stick dribbling and low player stamina affecting the sprint button) will remain in place. Of course, you would also expect how the game looks and sounds to have been given a boost.
Video gamers who love sports in for a treat 
Video gaming is a bigger industry than movies in the USA now, and top sports titles like those above have helped greatly. All of the major video game series we have looked at will undoubtedly be doing their best to wow fans and offer fresh gameplay. Whether you like soccer, football, or basketball, the annual updates of each of the top franchises above really do cause excitement every Fall.