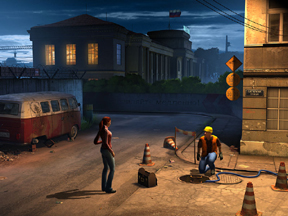 The best-selling point-and-click adventure Secret Files Tunguska by German studio Animation Arts will soon be released as a premium title for iPhone, iPad and iPod touch. The genre classic, whose high-end graphics are characterized by close attention to detail and a high level of realism, does not fall short in terms of scope either: Secret Files Tunguska brings more than 12 hours of thrill and suspense to smartphones and tablets. The initial purchase grants unlimited access to the game's entire narrative, and no additional unlocks are required.
The game's exciting story is inspired by real events and deals with the unsolved Tunguska catastrophe of 1908. In the role of the attractive mechanic Nina, who looks into the sudden disappearance of her father together with her friend Max, the players of Secret Files Tunguska set forth to solve a wide array of ambitious quests and challenging riddles. Visiting more than a hundred beautifully designed locations in Germany, Russia, Cuba, China and even Antarctica, Nina and Max go after one of the biggest mysteries of our time – with the Russian intelligence apparatus and an obscure secret society hard at their heels.
Thanks to Secret Files Tunguska's richly staged cut scenes, spot-on point-and-touch controls and full voice acting in English, German, Russian, Polish, French and Spanish, adventure fans from all over the world can look forward to an interactive thriller par excellence, which puts its players right in the middle of a global conspiracy of epic proportions!
Secret Files Tunguska requires iOS 7 or higher and runs on iPhone, iPad and iPod touch. The app will go on sale on the App Store for a fixed price of 4.99 USD / 3.99 EUR / 2.99 GBP at the end of June and the initial purchase will grant full access to all available features and content.