An Iconic Figure Returns to Star Wars
From July 15 – 17th in London,  Star Wars fans around the globe gathered for a celebration of everything Star Wars.  Star Wars Celebration Europe debuted the latest from Rogue One, Rebels, and gaming.  In Rebels news, it was announced that an iconic and beloved character will be returning to Star Wars canon.  He will be one of the main villains in Star Wars Rebels Season 3 and the main character in a new book by Timothy Zahn.  The iconic character is none other than the superior tactician and Imperial Navy commander,  Grand Admiral Thrawn.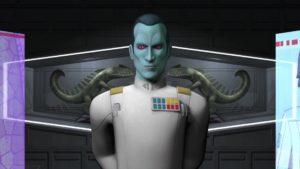 Thrawn  first appeared in the novel Heir to the Empire and continued as the main antagonist in Dark Force Rising, and The Last Command. Timothy Zahn has also covered his backstory as a commander with the Chiss fleet and subsequent confrontation with the Republic, Jedi, and Darth Sidious in the novel Outbound Flight. Thrawn in the trailer for Season 3 is similar to his appearance in the novels.  A Grand Admiral wearing a white uniform commanding the Imperial fleet.  His military tactics come from studying the cultures, history, and art of his enemies.  These according to Thrawn reveal strengths and weaknesses.  As a Chiss, he is one of the only non – human high ranking officers in the imperial navy.
Timothy Zahn, the Grand Admiral's creator, will continue the Thrawn story with a new novel.  The novel is set to span the time from Thrawn's  first contact with the empire up to the beginning of Rebels Season 3.
Rebels Season 3 trailer also debuted at Celebration Europe.  This season will focus on Ezra's emerging powers and his new darker path mentored by Darth Maul and a sith holocron.   Kanan must continue to train Ezra and keep him on the path of a Jedi while on his own personal journey.  In this season the rebels will face a new enemy, Grand Admiral Thrawn and continue their battle against the Empire.  Moff Tarkin and some old friends from season 2 come back. There are also story arcs surrounding Mandalorians and Imperial deflectors.
Game News
In game news, the Death Star DLC is coming to Star Wars Battlefront and features the trench run.  On the MMO front, Star Wars the Old Republic continues to add more chapters to their story.  Last year, BioWare released Knights of the Fallen Empire, expanding the saga beyond level 60.  This fall, BioWare will be releasing the new expansion, Knights of the Eternal Throne.  In 2018, Visceral is launching a new untitled Star Wars game.  Amy Henning is creative director for the game and writer and director for the Uncharted series. The game has been reported to be in the style of the Uncharted series.
Related articles