Life Is Strange is the second game from French developer, DONTNOD, who published Remember Me in 2013. Its latest game, is an episodic mystery adventure, funded and published by Square Enix on PC, PS3, PS4, Xbox 360 and Xbox One.
DONTNOD's first game, Remember Me was  cyberpunk adventure with a female lead and Life Is Strange also puts a girl in the centre. But
that's where the similarities end.
Life is Strange is about a girl called Max, who returns to her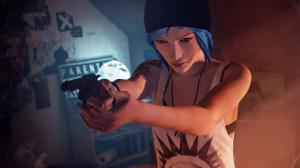 hometown in Oregon, after being away for five years. She reunites with her former best friend, Chloe, who's father has died, leaving her struggling to cope. Added to this, a fellow student is missing and the friends set out to find her.
The game is described as an "episodic, digitally delivered, narrative driven adventure" and places emphasis on player decisions and consequences. Max has the power to rewind time, which is used to allow players to alter a decision, whether it's an action or a choice on the dialogue tree. This allows gamers to change the short-term outcome, but they still don't know what the long-term impact of that decision will be, so replayability shouldn't be affected.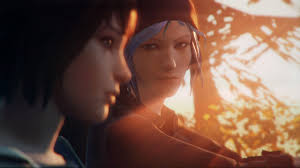 Apart from the unique game mechanic, Life is Strange also has a distinctive style.  The hand rendered finish and soft lighting effects, lend a compelling mood. As Max walks around the room, certain objects are highlighted with a white chalk arrow and label, reminiscent of scrawls on a school exercise book.  And from the brief bit of dialogue I've heard, sometimes it sounds a bit stilted, but more often than not, it's spot on.
On casting another female lead, DONTNOD have said that they're not trying "to fix the industry". One could suppose that they just want to tell interesting stories.  One to watch.