It's very easy to predict what happens when a character catches the global zeitgeist. It gets exploited in all sorts of different ways to satisfy our thirst for entertainment and other recreational activities. This has been the case over the last few years as more and more software development companies have taken characters from popular video games and transitioned them into online slot games that are now available on desktop and mobile devices. The latest example comes courtesy of Microgaming and the release of their new Tarzan slot machine which was originally published by Sony for their PlayStation gaming console in 1999.
Here we take a look at 3 of the most popular characters that have made the big leap from your consoles to your fingertips.
Terminator Salvation
The latest entry into a long list of video games based on the popular character made famous by Arnold Schwarzenegger, going all the way back to the time of NES and SEGA in the late 80's and early 90's, this particular third person shooter game never achieved cult status. It was developed by Grin and Halcyon Games to coincide with the release of Termination Salvation the movie in order to create more awareness and buzz. It is safe to say that both the game and the movie sagged at their respective box office, but the slot game, which was developed by Microgaming, has seen glowing reviews. This is one of the most successful stories, taking a mediocre video game and turning it into something spectacular for slot lovers.
Iron Man
While all the Iron Man movies struck gold at the worldwide box office for Marvel Studios, both Iron Man and Iron Man 2 from Sega failed to generate any favourable reviews among critics and their fan base. The original game received the distinction of being the worst game everyone played by Game Spot while the follow up received a single star from Empire. On the other hand, the Iron Man slot game and its two sequels, all produced by Playtech, continue to entertain players even today, thanks to the amazing progressive jackpot called Marvel Jackpot. This is a feature which is available across all Marvel-themed superhero slots that allows players to win up to $1 million. Tony Stark would be very proud!
Tomb Raider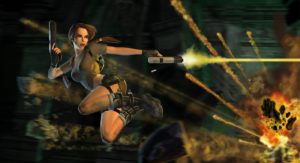 If you thought it was easy to find an IP that performed solidly across its theatrical release, gaming and slot version then you were sadly mistaken. The only character to come remotely close to this is Lara Croft: Tomb Raider, a slot game released in 2004 by Microgaming, followed by its sequel Lara Croft: Secret of the Sword in 2008. The reputable resource site BingoFind.com – which covers the online bingo and slots industry – mentions that this was the world's first branded slot game through an exclusive agreement between Microgaming and Eidos. Completing the trifecta of successes, the video game and its different iterations have sold in excess of 8 million copies worldwide.
The big question on everyone's mind is which video game title will get the slot treatment next. A number of industry insiders expect that Assassin's Creed, which got even more exposure when it was released as a movie this past summer, is the prime candidate. It is after all a billion-dollar franchise with over 80 million copies sold worldwide. A huge fan base never heard anyone!