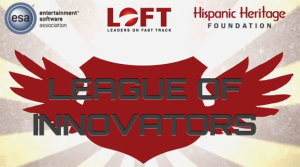 Twenty minority students were selected as Leaders on the Fast Track (LOFT) Video Game Innovation Fellows based on games and apps they developed to address social issues in their community, the Entertainment Software Association (ESA) and Hispanic Heritage Foundation (HHF) announced today.
The fellows, ages 15 to 25, will visit Washington, DC October 1-3 and present their ideas to members of the Obama Administration, Congress, and national community leaders. Each fellow will receive an innovation grant to help further develop his or her game or app.
"This creative partnership with ESA allows us to engage youth on their terms," said Jose Antonio Tijerino, president and CEO of HHF. "We believe that video games are a compelling gateway for teaching students how to code and build their own games and mobile apps — skills that will ultimately help prepare them to compete in today's technology-driven marketplace. We will empower them to become content creators, not just consumers."
"The ESA LOFT Video Game Innovation Fellowship demonstrates that games are more than a means of entertainment. They are a valuable tool for positive change in our society," said Rich Taylor, senior vice president of communications and industry affairs at the ESA. "We are proud to offer an opportunity that will help foster and promote creative thinking and innovation in minority communities through the unique platform only video games can provide."
LOFT is HHF's award-winning, leadership, and workforce development program focused on America's priority fields including STEM, entrepreneurship, education, and innovation. Tens of thousands of students and young professionals are connected to each other; prepared through trainings, priority-field-tailored symposia, workshops, and Charlas; and hundreds are placed into internships, mentorships, fellowships and full-time positions with Fortune 100 companies and government agencies. Visit www.LOFTinnovation.org for more information.