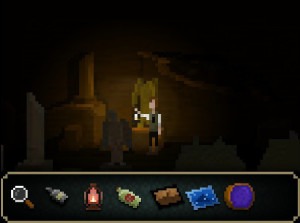 Independent game company "The Game Kitchen" is excited to announce the final release the second season premiere of "The Last Door", an episodic point-and-click horror adventure game featuring stylish pixel-­art graphics and a foreboding orchestral soundtrack.  
This new episode, titled as "The Playwright", stands for the first installment of the second season and opens a new narrative cycle in "The Last Door" plot.  In this new and highly anticipated continuation of "The Last Door" series, new and intriguing mysteries are back, featuring new playable characters and many technical enhancements. 
In this new episode, the intriguing story keeps on unfolding and takes Doctor Wakefield (Devitt's therapist) back to London, on the trail of Jeremiah's whereabouts, where he will face dreadful personages and eerie places.
Concurrently with the launch of this new chapter, the indie studio announces that "Ancient Shadows", fourth episode of and first season finale of "The Last Door" has also been released for free, so anybody can enjoy it without restrictions at the horror game saga website.
Within this fifth episode, in addition to the always masterful and disturbing soundtrack composed by Carlos Viola, many technical and game design enhancements as well as visual and narrative improvements are to be expected because the studio also announced the migration into Unity time ago. Hence, shorter production times are also expected for upcoming chapters. In conclusion, players shouldn't miss out this great season premiere of "The Last Door" whose well-built and enthralling cliffhangers will leave the player hunger for the next episode.
From this very moment,  "The Game Kitchen" start their crowdfunding campaign to finance the next episode: Chapter sixth (second chapter of season two). All donations will be welcome to help this small studio to go on with their fantastic job.