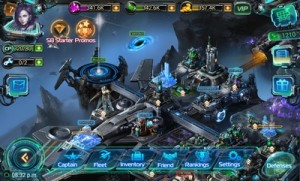 After completing the Beta-testing phase, global game developer and publisher IGG (I Got Games) released today the full version Galaxy Online 3. As the third title in the traditionally browser-based series, Galaxy Online 3 is developed for the Android platform, with plans to release the iOS version within the following few months.
The version update, along with having fixed a number of known bugs, is also bringing a slew of new and long-anticipated features including the ability to custom-design ships, an assisted manufacturing option to let friends help with the construction time of fleets, and updated graphics and effects.
The content doesn't stop there, however. Following the official release, IGG is planning on implementing additional Guild features like Resource Wars, where players choose sides and team up to occupy resource points in a massive battle for domination. Expertise skills will also be made customizable, giving more freedom to mold Captains just the way players want.