Free Fire, one of the world's most popular mobile games, invites Survivors to become vigilantes working to clean up the streets from a vile corruption in its next Elite Pass (EP), Bloodwing City. In this city, money is king and while the local government is still able to govern, those in power are mostly corporations and gangs. This has left huge gaps in the government, making it difficult to care for its citizens.
The Bloodwing City EP focuses on two specific vigilantes: Trixy and Shadow. They're citizens who took it upon themselves to try to reduce the amount of intergang violence since it's caused many innocents to inadvertently get involved, often becoming casualties of these never-ending street fights. Their latest outing finds them sitting on a rooftop while on the lookout for a gang that's transporting a special package, the governor. In an alley below them, they see some grunts from the Crossroads gang suddenly surround three men, moving in a military-style formation. Shadow swoops down to find the men being protected were decoys, but Trixy spots the governor elsewhere and moves in to rescue him.
Survivors that want to become vigilantes can earn several rewards to resemble both Shadow and Trixy. The Bloodwing Lad Bundle (Shadow) and Bloodwing Lass Bundle (Trixy) will intimidate any gangs that come in their way, while additional rewards will help complete their look. These include the Bloodwing City box skin, the Bloodwing Surfboard, a Bloodwing City skin for the Thompson, and the Vampire Bat backpack skin.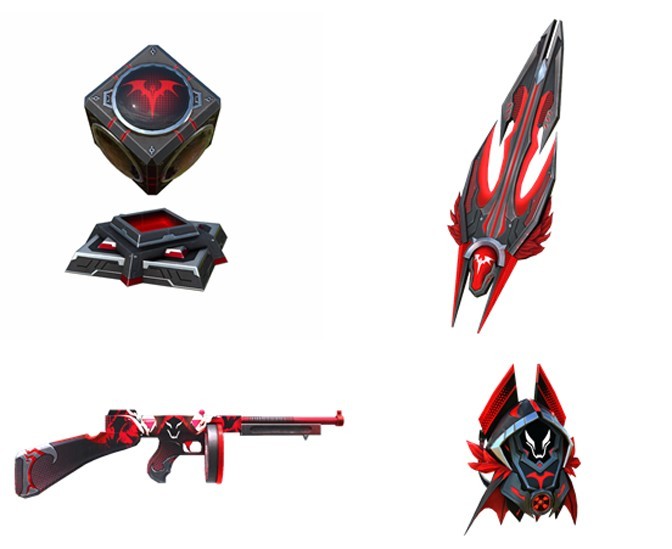 For the Bloodwing City EP, Free Fire designers drew inspiration from urban streetwear and nocturnal creatures, specifically bats, while leaning on a classic color contrast of black and red. Designers wanted Shadow and Trixy to follow the concept of a city night-crawling antihero. A combination of high-tech and leather elements helps convey this sense of mystery and nobility within the two vigilantes.
About Garena
Garena is a leading global online games developer and publisher. Free Fire, its self-developed mobile battle royale title, was the most downloaded mobile game in the world in 2019 and 2020, according to App Annie.