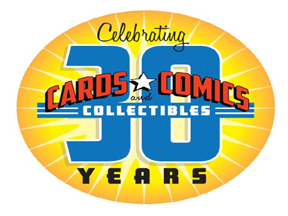 On Saturday, May 3 2014, Cards, Comics & Collectibles of Reisterstown, MD will not only be celebrating Free Comic Book Day, but will commemorate an even bigger milestone event – its 30th Anniversary!
This will be the biggest extravaganza held at the store to date, and will feature: appearances by superstar creators J.G. Jones, Don Rosa, Todd Dezago, Craig Rousseau, Steve Conley, John Gallagher, and Frank Cho*; great sales on hardcovers, trade, toys, statues, and modern back issues; and, of course free comics and more!
"When we first opened our doors on May 1, 1984, I couldn't even imagine celebrating 30 years," said Marc Nathan, owner of Cards, Comics & Collectibles and show promoter for the Baltimore Comic-Con. "Thirty years seems like such a long time, but it's been an amazing ride that has just gotten better and better every year. From the awesome group of creators who've appeared in the store and at the show over the years, to the loyal customers who come in week after week, I couldn't have asked for a better 30 years in the comic business!"
In addition to the dozens of free comics that will be available that day, the first 100 customers will receive a Cards, Comics & Collectibles exclusive Rai #1 (Valiant Comics) variant cover by J.G. Jones. This cover was commissioned exclusively for the 30th Anniversary and is not available anywhere else!
Every customer who stops by will receive a free Baltimore Comic-Con T-Shirt while supplies last! Plus, all weekend long (May 2-4, 2014) get an additional 50% off all Hardcovers, Trade Paperbacks, Toys, Statues, and Modern Back Issues!!