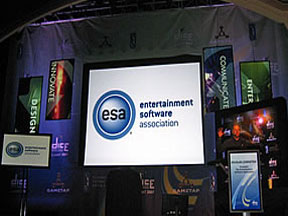 The Entertainment Software Association Foundation (ESAF) today announced the winners of its 2014 Education Challenge Grant. With ESAF's support, Bronx Compass High School in Bronx, NY; Dunlap Community Schools in Dunlap, IL; and Jefferson Middle School in Jefferson, WI, will leverage video game technology to create engaging learning experiences for their students.
"Educators increasingly use video games to create new and exciting ways for their students to learn and to foster their development of valuable 21st century skills," said Jenny Lai, vice president of ESAF. "We are proud to support these schools and look forward to seeing the results of their innovative programs."
This year's Education Challenge Grant winners were selected by a distinguished panel of judges, who chose schools based on the creativity of their proposals to integrate video games and technology into their curricula.
Now in its third year, ESAF's Education Challenge Grant is the result of a partnership between the Federation of American Scientists, the Association for Middle Level Education, and The Joan Ganz Cooney Center at Sesame Workshop. The grant is part of ESAF's efforts to help promote video games and game technology as educational tools.
2014 ESA Foundation Education Challenge Grant Recipients
•Bronx Compass High School
Location: Bronx, NY
Project Title: Serious Video Games Development
Students in grades 9-11 will work with mentors to design and produce computer games that address real world issues. By integrating humanities and technology curricula, the program will challenge students to communicate and empathize with the daily challenges faced by inner city youth.
•Dunlap Community Schools
Location: Dunlap, IL
Project Title: Simulating STEM with SimCity
Students in grades 7-8 at Dunlap Middle School and Dunlap Valley Middle School will use SimCity to understand the core elements of science, technology, engineering, and math topics by conceiving, designing, building, destroying, and eventually rebuilding a virtualcity. Students will work in small groups to identify problems that arise during the design process and develop solutions, leading to a successfully operating city. The game will be fully integrated into the class, and students will be evaluated based on the number of achievements earned throughout the game.
•Jefferson Middle School
Location: Jefferson, WI
Project Title: Minecraft Government and Economics
Eighth-grade students will use Minecraft to construct their own civilization while developing a greater understanding of American government and economics. Throughout the course, students will blog about their settlements and attempt to persuade their fellow classmates to adopt certain economic ideas.