Poker is a great game on so many levels. From the excitement of receiving a hand you know is going to be a winner, to the skills needed to keep that information to yourself, there's always plenty going on in any game. The fact that poker is available 24 hours a day online too is just another huge benefit for poker fans who don't want to wait until the weekend to try and win some money.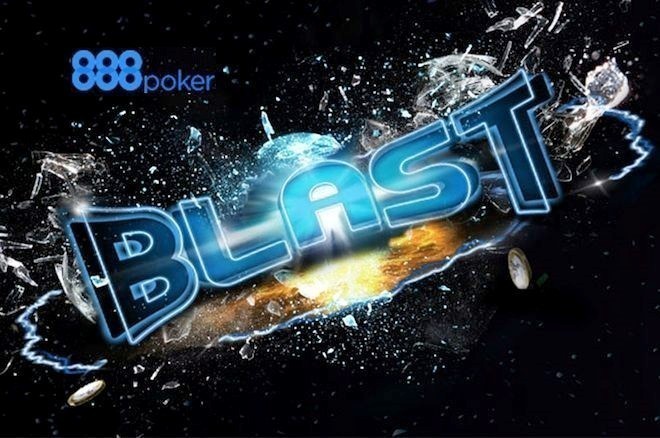 Thanks to vastly improved accessibility, online poker players can now access poker anywhere, anytime on mobile phones and tablets, as well as home computers and laptops. This has created the opportunity for quick games on the commute to work, or during lunch and coffee breaks. Despite this easy access and opportunity for a quick game between working, online poker can sometimes not be as well suited for the 5-minute 'pick-up, put-down' gameplay that can be found with other casino games.
A real-world game of poker can last several hours depending on pot size or number of players, and games in the online world can sometimes be exactly the same. In fact, the world record for the longest game of poker is held by Phil Laak, with an amazing 115 hours spent playing poker at the Bellagio in Las Vegas. Some players like to take their time when it comes to deciding to play or fold, or making their bets, and in the online world it's not like you can ask someone to hurry up because you need to get back to work! In a game with 7 other players, you could end up waiting several minutes before the next phase of the game, which is fine if you're playing on Saturday evening, but not much use when you have a 15 minute coffee break. This is where BLAST Poker changes things completely.
BLAST Poker is all about speeding games up significantly. Using a Super-Turbo structure and timer, each game lasts 6 minutes, or 8 minutes for bigger prizes (explained later), with normal gameplay happening in those 6 minutes. Everyone starts with 1,500 chips too. Once the timer is up however, everyone goes automatically all in, until an overall winner is determined. This not only drastically reduces playing time, but throws up a whole new world of tactics and considerations.
As there's limited time on the clock to try and get other players out of the game, players will find that there are all-in calls in the first hand of the game, making things very fast and furious. The big red timer really puts the pressure on players to act fast in order to get to the end-game all-in extravaganza. Once the six minutes are up, then an electrical field engulfs the screen as everyone's bankroll is laid down on the table. Then, the gloves are off until a single winner emerges victorious with the best hand.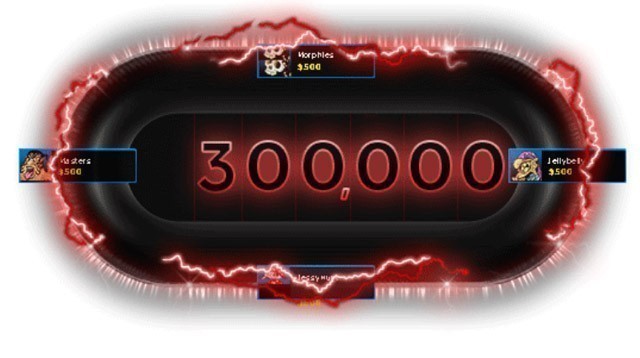 So what's so attractive about these short games where you could end up out of the action early? Well, the players around the table are actually playing for a randomly-generated jackpot, and not just the pot generated by player's bets, which can be as high 10,000 times the buy in, which could be a life changing amount of money. These games with higher buy ins but higher potential jackpots are a great way of going for a higher prize, with the opportunity to grab more chips before the electrical field signals that time is up.
Then there's the sheer thrill of gambling. Sometimes poker can become a bit bogged down with players doing their maths and trying to figure out the odds of the next card, with conservative gamblers, well, sucking the fun out of what should be a fast-paced, who-dares-wins game. Blast Poker certainly offers this kind of gameplay by shifting the luck vs. skill balance. As players have a limited time to try and get more chips, which gives a slightly better chance of winning when the all-in stage comes around, there isn't any beating around the bush, with any caution thrown out of the window. There's also the factor that you're forced to stick with your final hand when the compulsory all in buzzer sounds, which can get really exciting when you've got a decent pair of cards.
The beauty of faster BLAST games is that you can fit more poker into a shorter space of time, and you won't be waiting around for other players to join the game like you would in a physical casino. There's also no sitting staring at the screen while Johnny1234 from Leicester takes 4 minutes to decide whether to fold or not as you hold a pair in your hand. Granted, your odds of winning may be a little shorter thanks to the forced all ins, but you certainly won't have access to the pot sizes you'll see in BLAST games whilst playing normal poker games.
BLAST is a great game for poker beginners who are just getting up to speed. You'll recognise hands quicker and at the end of the day, you'll be more reliant on luck rather than having to cling on for dear life as a good player tries to make your spend chips.
If you're looking for a quick fix, or just fancy seeing what happens when annoyingly good poker players are suddenly forced to go in with a handful of absolutely nothing, then you should try BLAST poker. Faster game times, potentially lucrative jackpot winnings and moments of blind panic and euphoria certainly help to make the game more exciting again!