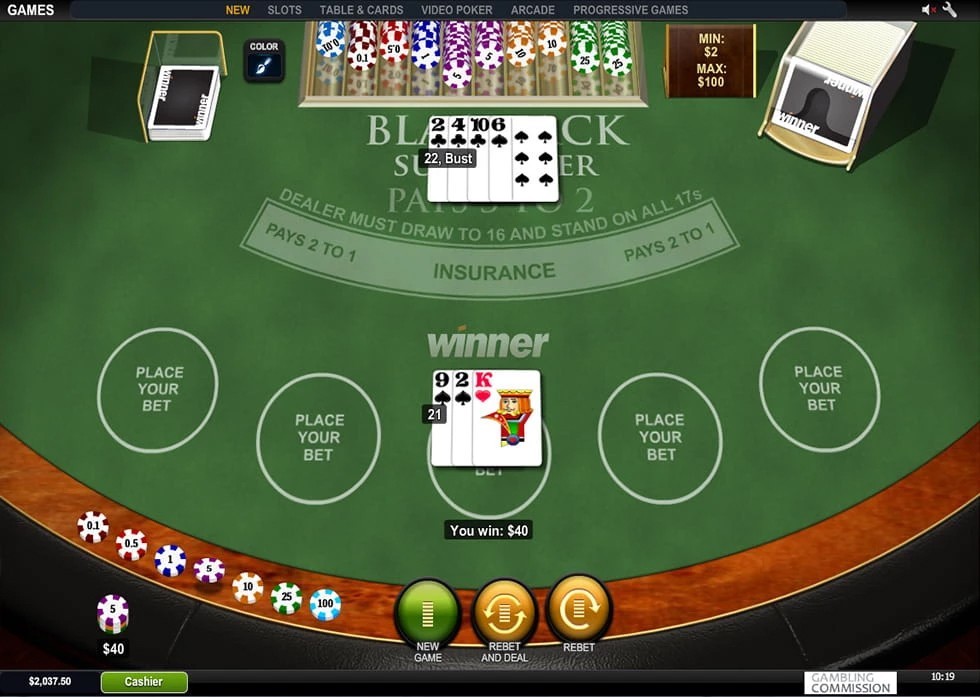 The Surrender version of Blackjack online by Playtech, gives more options to players and slightly disadvantages the house.
With the Surrender version of Blackjack online it  is possible to surrender if the player's cards are not good enough, thus saving much of the initial bet, hence the name Surrender.
This possibility is highly appreciated because it limits losses and gives an advantage to the player on the house, who instead has to play and according to strict rules.
In short, the Online Blackjack Surrender by Playtech has rules that greatly prolong the indescribable pleasure of the game.
Anyone can play the Online Blackjack Surrender right away, even without knowing the rules of the classic game, because these are so simple and immediate that they can be explained in very few words. And as you know the more simple the game the more compelling it becomes.
Rules of Blackjack Surrender
The goal of Online Blackjack Surrender is to reach 21 points or get as close as possible without exceeding them, that is, without busting.
The value of the cards is the nominal one, except for figures that are worth 10 and the ace that can be worth 1 or 11. At the beginning of the Blackjack Surrender game the player decides how much to bet; The minimum and maximum limit of the bet also depends on the VIP level reached.
The player will receive two cards uncovered, then the dealer will hand out to himself an uncovered card and a blanket. From this stage on, the Online Blackjack Surrender AAMS begins to differentiate itself from the classic version.
The player has in front of him a fair range of possibilities. For example, he can split his two cards: if they are equal, he can proceed by splitting his hand in two, he will place a new bet equal to the initial one and proceed by playing two separate hands.
Another possibility for the player is doubling: if the two initial cards look very promising the player can, before asking for more cards, double the initial bet.
With Blackjack Surrender by Playtech you also win by surrendering
Folding is not necessarily a bad thing when playing Blackjack Surrender by Playtech, in fact this move is often used as a winning tactic by the player to preserve to the maximum his initial capital and his winnings.
But what is this strategy that even gives the name to this particular and compelling version of the classic game?
Very simple: let's say that the player receives two very poor cards and the dealer has a good hand, the player can decide not to continue in the game and surrendering will save half of his initial bet.
The Blackjack Surrender online follows the same rules in almost all online casinos. Blackjack Surrender is a game of skills: the player can decide how to behave according to his card and those of the dealer, mathematically increasing the chances of winning.
Strategies to win at Blackjack Surrender
There are many strategies that can be used to win at Blackjack. Mathematicians have written various books on how to win at Blackjack and each player can follow techniques that can be simple or complex. Here a list of the most popular systems to win:
Hi-Lo, very simple
O. simple system to count the cards when you play blackjack
Hi Opt I, this is a complex system not to be used by newbie
Hi Opt II, very complex system to adopt just for experts players
Omega II, the most complex system to count cards just to be used by players that are always playing at blackjack
Red 7, simple system to count the cards
Zen Count, simple system to count the cards