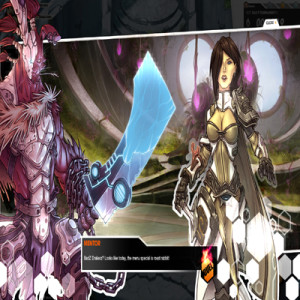 Already a success throughout Europe, Drakerz-Confrontation, the first augmented reality trading card game for PC, launches today in the United States. Free to play, the game and trading cards from French developer Peoleo Entertainment are available on Drakerz.com. The game can also be played on Steam.
Drakerz-Confrontation unlocks a new experience for players and card collectors, combining a trading card game and a free-to-play online PC game via a patented augmented reality engine. In the game, players — or "Drakerz" — collect physical premium cards that are shown to players' webcams to call legendary creatures known as Drakos to appear in an arena and fight virtually using augmented reality. Codes on the cards create animated sequences on players' screens.  Point scoring and card cost is managed entirely by the computer, freeing the player to concentrate on combat.
"After the successful launch last year in Europe, Drakerz-Confrontation is ready to reach a new audience of U.S. gamers and trading card enthusiasts," said Benoit Coupez, CEO of Peoleo Entertainment. "Players will experience Drakerz-Confrontation as it was meant to be played with physical trading cards powering exciting immersive battles via augmented reality."
Drakerz-Confrontation is free to play online – players can log into their accounts and play from any PC with an Internet connection. In addition to multiplayer mode, Drakerz-Confrontation offers a variety of duels against the computer in the story mode. For players without a webcam, an entirely virtual version is also available. For players without a PC, the game can be played offline using the trading cards.
Collecting the Drakerz-Confrontation cards is at the heart of the gaming experience. Each card has a special effect from creating armor to casting spells. Players determine their strategy based on the cards they select. The trading cards are now available for purchase on Drakerz.com.