Eight BAME-background talents from the games industry have been selected for the London Games Festival's first Ensemble showcase.
The selected artists were unveiled today, on the first morning of the 2018 London Games Festival, which runs 5-15 April across the city.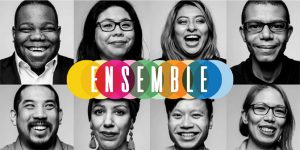 Ensemble, supported by the British Council, highlights the significant contribution BAME creatives have made to the UK's games culture at every level, focusing on up to eight artists and delving into their work.
The eight artists selected hail from across the UK and are: 
• Chella Ramanan, Writer (Devon): Chella is a freelance journalist writing for Gamesindustry.com and the Guardian online and a speaker on diversity and storytelling – having written fiction she has now begun making her own games with her first title, Before I Forget.
• Des Gayle, Producer, Altered Gene (London): Des has worked with LEGO Media, EA and Square Enix with his credits including hit games FIFA, Just Cause 3 and the BAFTA winning Life is Strange, before forming his own micro studio, Altered Gene.
• Jade Leamcharaskul, Composer and Sound Designer (London): Jade has composed the soundtracks for numerous indie games including Dragon Fin Soup, Hungry Whispers and Black = White, and is Events/Commuity Manager at BAME in Games.
• Jodie Azhar, Lead Technical Artist, Creative Assembly (West Sussex): Jodie began as an Animator at Kuju and Rebellion before joining Creative Assembly, where she has lead the team working on the Total War franchise since 2015.
• Meg Jayanth, Writer and narrative designer (London): Meg was the narrative designer for the critically claimed 80 Days and has written for major titles including Horizon Zero Dawn and indie hits Sunless Sea. She is currently working on two unannounced titles and consulting on narrative design, diversity and inclusion.
• Moo Yu, Programmer, Foam Sword (London): Moo worked on the Ratchet and Clank series at Insomniac Games and LittleBigPlanet at Media Molecule before founding BitMinion, Mugathur, and now Foam Sword, creating Knights and Bikes.
• Nadir Miheisi, Game Developer, Funky Gorilla Games (Essex): Nadir is a self-taught programmer who recently took the leap to working full time making games. He is currently working on his first VR title, Beyond Type 1: 2150
• Wei Xing Yong, Lead Animator (Manchester): After a first job at Ubisoft Reflections, Wei completed an internship at Framestore where he worked on the Oscar- and Bafta-winning film Gravity. His credits include Batman Artkham VR, Destiny 2 and Battlefield 3.
They were selected by curator Sharna Jackson plus a dedicated steering group of BAME representatives from across the UK video games and interactive sector.
Sharna Jackson said: "Excellent and important work is being created by BAME talent in the games industry. It's imperative to highlight these achievements – especially in this climate – and to encourage and support the next generation of talent as they emerge. Ensemble foregrounds the importance of a diverse industry, by demonstrating its significance to the creation of rich and worlds and experiences for everyone. The talents featured in Ensemble come from a range of backgrounds, across a range of disciplines and at different stages of their career – and every one of them brilliant."
Striking portraits of each artist have been taken for the exhibition by photographer Josh Fray. These pictures plus career histories and interviews with the eight will be presented at the LGF HUB event at Victoria House in Bloomsbury on Monday 9 April and Tuesday 10 April. Viewings are free (registration required for a free ticket – see www.games.london/ensemble/).
Ensemble is supported by the British Council, the UK's international organisation for cultural relations and educational opportunities.
Games & Interactive Programme Manager, Paul Callaghan said: "We're proud to support these BAME creatives and the showcasing of their work in Ensemble. The British Council connects audiences around the world with outstanding examples of UK creativity, and Ensemble highlights and celebrates this exceptional games talent from a wide range of backgrounds and disciplines –  from writing and programming to production, composition, art, and animation – in work that resonates locally and around the world."
Ensemble aims to inspire the next generation of game developers from all backgrounds, offering a fresh angle on game development as a creative process. It will also showcase how diverse talents and perspectives are vital for building more diverse digital worlds and creating the games of the future.
To ensure this, Ensemble will be featured at a number of sites across the country and potentially globally after its London Games Festival debut. Potential hosts and partners are welcome to contact info@games.london to find out more about ways to support and take part in the programme.
Ensemble is just one aspect of the city-wide London Games Festival, which is expected to attract over 50,000 people across a mix of 40 public events for consumers and industry professionals. The programme covers mobile, PC and indie games, VR and AR, esports, and fun and fascinating new forms of interactive entertainment. The programme can be found at www.games.london.