The summary article that I write every year is always the hardest because condensing the experience of DragonCon into a target of 700 words is incredibly difficult. Unlike any other convention I have attended, DragonCon is an amalgamation of several conventions under one, overarching umbrella. As we were standing in line waiting for the Alex Kingston panel, in grand DragonCon tradition, we made line friends, and the couple observed that they have other friends who attend the Convention every year. However, those friends have different interests, so they never see each other. That experience is not unusual. On the other hand, I have a friend that I randomly come across at different points in the Convention without scheduling. The ways of con are myriad and mysterious.
The Good: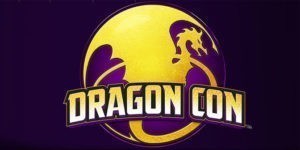 DragonCon featured lots of big names in fandom this year including Nathan Fillion, Stan Lee, William Shatner, most of the cast of Star Trek: The Next Generation, Matt Smith, Alex Kingston, Billie Piper, Michael Rooker, and John Cusack. I confess to having been a little curious as to the inclusion of John Cusack, but from all accounts (the line for Cusack was unbelievable), his panel was really good. The other really big name that might surprise some of our readers was Alton Brown and part of the cast of Good Eats. Brown made his first appearance at DragonCon and in fact announced the return of Good Eats as a half-hour show on the Food Network entitled Return of the Eats.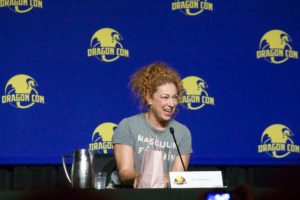 I lamentably was unable to see that panel in person despite waiting in a line that wrapped around the Marriott hotel for an hour and half. At the thirty minute mark of an hour-long panel, word came down the line that the ballroom had reached capacity, causing no shortage of grumpy mutterings for those of us left standing outside. However, as sometimes happens at DragonCon, that failure ended up being serendipitous because left to our own devices, my trusty camera Sherpa and I hopped over to the newly forming line for "An Hour with Michael Rooker." While I know this is blasphemous in some circles, I have seen none of the Walking Dead, but I have seen both Guardians of the Galaxy films. That said, I had no idea that what I was about to experience would be the best panel I have ever seen anywhere at any convention, and I have heard Mark Hamill sing "Happy Birthday" in the Joker's voice in person. (Before you ask, that does haunt my nightmares.)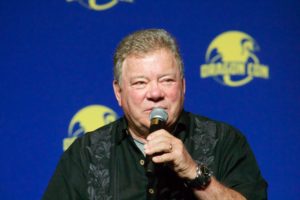 The panel started as most of them do with Rooker and the moderator up on stage answering questions, and then, ten or so minutes into the panel, Rooker gets obviously bored with the format. He grabs the mic, jumps off of the stage, and then begins literally running around the Hyatt ballroom. Y'all, he crawled down rows to answer questions. He flirted; he joked, and he demonstrated a truly epic level of sass. At one point, he nearly crawled over your favorite intrepid reporter to answer a young lady sitting next to her. Also, should you be interested, his phone case features Mary Poppins. I cannot recommend enough that you track down video of this panel, it was that amazing.
The Bad:
Having discussed the good, let's talk about the bad. DragonCon featured a record number of more than 80, 000 people in attendance this year, and the press of attendees was evident.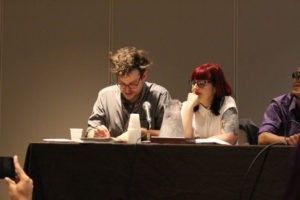 Even despite the better efforts of my camera Sherpa, getting candid photographs was vastly complicated by the sheer volume of attendees. That resulted in a few truly epic lines, and while generally, everyone was a good sport about waiting in those lines, there did seem to be a greater number of people who missed panels or got into panels late.
For example, we may or may not have been fussed at by Marina Sirtis (Deanna Troi of TNG fame) as we filed into the last TNG panel late. (If Ms. Sirtis ever reads this, she can be assured that we sprinted across Atlanta to see her. We did our best.)
The Ugly:
Unfortunately, there was a high profile set of injuries this year. Someone threw a chair from the tenth floor of the Marriott, which struck and injured two attendees. Both women have been released from the hospital, and it looks to be that both are on the road to recovery. That said, if any of our readers know anything about the incident, we do ask that they reach out to Atlanta's Crime Stoppers via the following information: Crime Stoppers Atlanta at 404-577-8477, text information to 274637 or visit crimestoppersatlanta.org.
Otherwise, the Convention went pretty smoothly. I like having the vendor space consolidated; the lines to get into the art show area were reasonable. Most of the familiar vendors were back from Chessex to Ultra Sabers. This year, barbarians (not an exaggeration) sold us handcrafted soap from the Cedar Soap Co. They were the nicest smelling barbarians I've ever encountered. The Saturday morning parade was fantastic and seems to be getting better every year. I did note that enough attendees had stumbled onto the secret of doing Benihana's to avoid the lines at the food court that I nearly did not get my hibachi fix. Y'all need to make more space at the table.