Though it is incredibly easy to find one's self overwhelmed by Dealers' Rooms, celebrity panels, and convention parties, taking a moment to explore some of the more offbeat options is well worthwhile, even if they are hidden. Often, these more offbeat options take the form of multi-track, academic panels that form their own conventions within the larger convention structure.
DragonCon has a lot of opportunities like this. For me this year, it took the from of the Comics and Popular Arts Conference, which presented a series of multi-disciplinary panels that spanned each of DragonCon's popular tracks, ranging from medieval narratives and their implications for Space Westerns to philosophical underpinnings of popular anime. Scholars themselves hailed from a wide range of universities and colleges such as UT Dallas, Kennesaw State University, Emory University, SIU Carbondale, Georgia State University, University of Southern California, Morehead Univeristy, Pennsylvania State University, Old Dominion University, and Cape Fear Community College, and there was a substantial sprinkling of independent scholars as well. In addition to these scholars, at least one of CPAC's panels included Kelly Sue DeConnick, as indeed her work was the subject of the panel. CPAC panelists did not shy away from examining gender identity, feminism, gender identity or esoteric concepts such as AI consciousness, which are ideas that some others have chosen not to explore in an academically critical setting.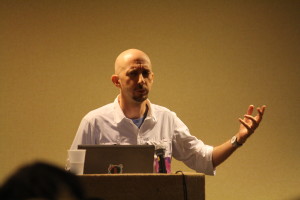 What is fascinating about these academic conventions is that not only do they serve as great opportunities for fans to discuss their favorite media offerings, such as Cowboy Bebop, but these panels are great for academic outreach. Game Industry News successfully reached out to Dr. Carl Dull, one of CPAC's independent scholars and panelist for "Philosophical Perspectives on Japanese Anime," and he expressed a certain amount of pleased excitement with the attendance levels of each panel: "The rooms were all at capacity for nearly every talk, the questions were thoughtful, and I met a number of fans who were very excited to talk about philosophical issues in their favorite shows". Having attended Dr. Dull's panel, I, too, was impressed at the level of discussion.
These types of panels provide fantastic opportunities for critical dialogue, and in current climates, having the opportunity to discuss topics such as "Race, Gender, and Sexuality in Contemporary Comics" not only with academic scholars whose presentations were anonymously peer reviewed but with creators like Kelly Sue DeConnick and Matt Fraction reminds con guests that the media we consume does not exist in a vacuum and that the narratives we craft are shaped not only by market forces but also cultural and philosophical forces.
John Donne argued that "No man is an island" in the 1570s, and it is important to remember that similarly, no Geek is an island any more than is the media that we love consuming so much that we have crafted conventions in order to share that love with other, similarly minded individuals. Conventions such as CPAC within the larger concept of DragonCon allows convention attendees not only the opportunity to engage in discussion of the very media that drew them to the convention but also to learn something about the greater culture as a whole. It is a credit to DragonCon organizers that they have the forethought and insight to include these culturally enriching gems as part of their overall show.
Panels like those offered by CPAC are invaluable experiences, and I highly recommend taking a moment to drop into one or two if you happen to be at a convention like DragonCon which supports them, particularly if the speaker happens to be Dr. Dull.