Hi everyone, I'm back with the ninth and latest entry in the increasingly excellent October Daye series. It's time to avoid the thorns with A Red Rose Chain by Seanan McGuire! It's the ninth book in the October Daye series.
Plot Synopsis: Things are looking up. For the first time in what feels like years, October "Toby" Daye has been able to pause long enough to take a breath and look at her life – and she likes what she sees. She has friends. She has allies. She has a squire to train and a King of Cats to love, and maybe, just maybe, she can let her guard down for a change. Or not.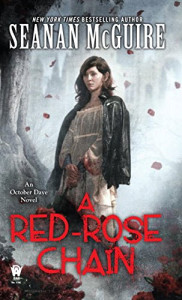 Plot: Without going to much into detail, this ninth and most current entry of the series continues with it's ever increasing stakes by this time including the lovely city of Portland as it's stage. Being raised in a suburb very close to Portland myself I found the way that the characters interacted with the city and people to be very fitting. They even get to mention a few landmarks, like Powells the biggest bookstore in the world, and our awesome and world famous Voodoo Doughnuts. There's even a Super Mario reference from one of the more nerdy characters.  So yes this book continues to prove my point that Miss McGuire is a writer to look forward to and that this ninth entry is worth the read.
[amazon asin=0756408091&text=Jump into this excellent series with a copy from Amazon.]
Characters: We get introduced to a few new faces, although Ceres (I'm totally guessing on the spelling, the one downside to Audiobooks) is probably my favorite. We even get to see some old faces, the evil pie flinging witch says hello. That being said Quentin May and Tybalt all have bad ass moments in the book and still are my favorite characters. Toby is snarky, but she just can't live up to the King of Cats.
Overall: This is an excellent entry, and well worth the time to read/listen to.