You know, the problem with writing a column every other week is that by the time I write about it, it becomes old news. And there are times that I have to make a decision of whether or not I should write about it or just let it move on.
But then there are times that something comes out that makes me so angry, so incensed, so straight up betrayed, that I do need to mention it.
And that is what Sony did at this year's E3.
I should have known after the impressive showing that Microsoft did this year, including all their first party announcements, early access to games (a la Steam Greenlight, which I will get to later,) and of course, the launch of 360 backwards compatibility, that Sony would need to do something in order to try and prove that they care more about the gamers.
And that moment was the Shenmue 3 Kickstarter.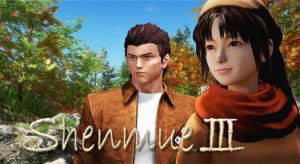 At first I thought they were going to announce that they were going to publish and fund the game themselves. But no, they dragged Yu Suzuki out to the stage to promote of all things, a Kickstarter campaign in order to raise $2 million to "show interest" in Shenmue 3. They couldn't go down the normal route that many other game publishers would go (such as focus groups,) but rather tell their fans to give their hard earned money to show interest.
To me, that's a slap in the face to gamers everywhere.
Before I go into detail, let me give my personal experiences over crowfunding sites. Not just Kickstarter, but similar sites such as Indiegogo and GoFundMe. I first heard of Indiegogo when James Rolfe, aka the Angry Video Game Nerd announced his own campaign to fund his movie. Despite lucrative partnerships with ScrewAttack and GameTrailers, he still asked his fans for $75,000 to cover his movie.
They donated $325,327, and there weren't any stretch goals to make the donations more worthy.
Since then I did see some Kickstarters that did follow through with products I was interested in, such as the Ouya (which made nearly $8.6 million) and independently developed Mighty No. 9 (over $4 million including PayPal funding) and hoping this would be a good thing.
But since then I saw other campaigns that ended up being a joke, such as raising over $55,000 just to make potato salad, or video producers starting their own campaign to have their fans pay their rent, or even their wedding.
And then there are those who ask for money to upgrade their studio in return for new shows to be in development. A few years ago a well-known entertainment site asked for $50,000 for 40 episodes of a game show (but thankfully also provided some stretch goals for extra programming.) At the end of the campaign, nearly $90,000 was raised.
But this campaign ended back in August 2013, and since then they only made one game show pilot (which was released to scathing reviews, even by the site's hard core fans.) That might have been what forever stained my opinion of crowdfunding once and for all.
So now here we are with Sony announcing the Shenmue 3 Kickstarter. In one day it surpassed its "interest" goal of $2 million dollars, and as of this writing, the campaign is over $4.5 million with 8 days to go. But still it made me mad that Sony would use their E3 event to do a stunt like this. Why would they not just help fund it themselves? Yes I know Sony is hurting financially. They ended up killing off their Bravia television and Vaio computer lines, and their credit rating was reduced to "junk" status. But still, their PlayStation 4 status is going strong, so why not help fund Shenmue 3?
It turns out that Sony is helping with the funds, so that makes me wonder why Sony would keep going on with the Kickstarter campaign. Even more, I have to ask, what if this game doesn't get developed or published? Will those who donated get their money back? Or will they end up just throwing their money away on fan service, nostalgia, and broken promises?
And apparently this is just the start of a new trend for Sony, because earlier this month they announced their "First Flight" program, where they are asking for the public to fund their own research and development. It is really is getting out of hand and turning into a term that I hear a lot, and have even used it a lot myself…e-begging.
I've seen other methods of supporting a game during development and at least there you do have a product that you help test out until the final game is released. Take a look at Steam Greenlight. Even though there are games that end up being horrible, at least there if you cover the development, you do have something to play and provide feedback for, and when the final game is released, you will already have the finished copy.
Microsoft is following up as well with their Game Preview program announced at E3. As of now, two games are available for the Preview Program: Elite Dangerous and The Long Dark. I've tested Elite Dangerous vigorously since its Preview launch and enjoyed it so much that I bought the early access game for $31. However, when the game moves from the Preview Program and achieves full release status, I will already own the game when it sells at full price.
I'm more than ok with that, because at least I won't have to wait until 2017 to see if I'm going to get a final product or not.
I'll be back to this come 2017, whether a final Shenmue 3 comes out or not.
Currently Playing: Elder Scrolls Online, Elite Dangerous
Waiting For: Fallout 4