Welcome back everyone to the second of my three-part end of the year awards celebration. We've already covered all the special awards, and now it's time to get to what everyone wants to see. My picks for the best and worst of the year. As usual, before we get started, I must go over the rules I have used every year to make my decisions:
1. No easy targets for the worst of the year! That includes licensed games, motion based games, kids games or any form of shovelware.
2. All of the games listed here are those that I have played through the course of 2017 as of the date of writing this (December 20th.) I know I will hear from the Nintendo fans about why I didn't place Zelda Breath of the Wild or Super Mario Odyssey on the list. That is because I currently do not own a Switch (but will by the end of 2017.)
3.The previous rule will also apply to games that may have debuted in previous years, but were ported to another format that I played this year.
Now with out of the way, let's start with the WORST of the year:
#5 – FOR HONOR (Ubisoft, Multiplatform, Played on PS4 Pro)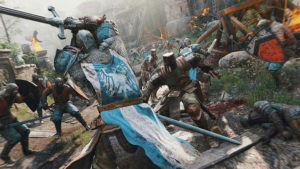 It's such a shame to see a game with such potential fall so quickly as For Honor has. I don't even know anyone who still plays this game online, especially since after the initial release there were reports of how it got worse online. Sure the game added newer characters such as the Ninja and the Centurion, but by the time that happened, very few seemed to care. Again, such wasted potential.
#4 – WWE 2K18 (2K, Multiplatform, played on Xbox One)
Just like the real WWE, its video game series seems to just get worse and worse every year. While upping the number of available characters pre-DLC is a huge plus, what's the point when the game is as glitchy as it was at launch? More so, even with now increasing the number of superstars on-screen to 8 (at the cost of performance on the base Xbox One,) the gameplay still feels as stale as the real thing. Now that there is some form of competition in the wrestling market with the excellent Fire Pro Wrestling World, 2K really needs to step up their game next year.
#3 – NBA PLAYGROUNDS (Mad Dog Games, Multiplatform, played on Xbox One)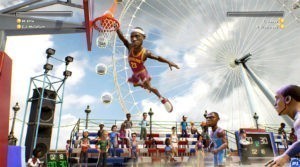 This attempt to bring back the fun that were the NBA Jam style games falls flat on its face. Stiff controls, dull gameplay and constant grinding to get better cards only makes this experience worse than what it should be. When you consider that the previous game, published by EA of all people, is more fun than what you released, you know you're in trouble.
#2 – BUSH HOCKEY LEAGUE (Formerly Known As Old Time Hockey, V7 Interactive, Multiplatform, Played on PS4)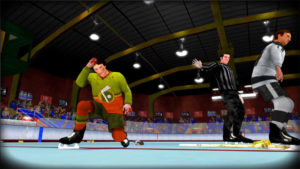 Again another series that fails where EA shockingly does better. I was hoping for a classic hockey game that played like NHL but brought back memories of the 1970s Slap Shot era, but in the end, Bush Hockey League just feels drab. The control, especially in terms of checking, feels unnecessarily stiff, graphics are bland, and even the fighting feels unnatural. On an even stranger note, when the Xbox One version was released last month, the game received a name change with no explanation at all. Maybe they were trying to hide the fact that it was a bad game in its previous state? You didn't fool me with this one!
#1 – STAR WARS BATTLEFRONT 2 (Electronic Arts, Multiplatform, played on Xbox One X)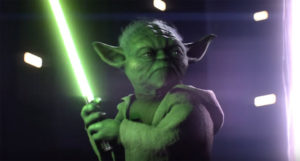 I know, I know, I know. I can hear the cries of "NO EASY TARGETS" from you all, but this is not an easy target when your company is scamming your customers the way EA did with Battlefront 2. The loot crate controversy is going to go down in history as one of EA's biggest blunders ever. When you get to the point where even DISNEY of all people threaten to take a property away from you, then you know you've done messed up.
Granted EA did remove the loot crates after all the controversy, but I'm sure they will come back. After all they have them in the multiplayer beta of UFC 3! Because of this, congrats EA, you just earned yourself the award for Worst Game of 2017!
But now that the suffering is over, it's time to get to the good stuff, as in my picks for the best games of 2017:
#5 – MUTANT FOOTBALL LEAGUE (Digital Dreams Entertainment, PC/Xbox One, Played on PC via Steam Early Access)
While both NBA Playgrounds and Bush Hockey League both failed to make an enjoyable arcade sports experience, the return of the beloved Mutant Football League franchise succeeds in every way. While this game is still in Early Access on Steam and Game Preview on Xbox One, I went back to playing it more than the previous two games combined. By keeping with the simplistic NFL Blitz style gameplay, MFL remains as pick up and play as before, and with the new commentary team led by Tim Kitzrow of NBA Jam/NFL Blitz fame, we might have one of the funniest games I've played this year!
#4 – WOLFENSTEIN II: THE NEW COLOSSUS (Bethesda, Multiplatform, Played on Xbox One X)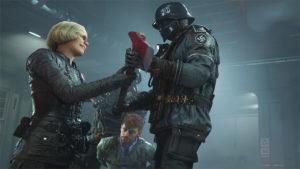 While not as amazing as the previous game, the sequel to Wolfenstein is still an amazing demonstration of how a first person shooter can still survive as a single player game with no multiplayer shoehorned into its gameplay. The guns still feel as heavy as ever, and the addition of assassination missions now make the game feel like an underground resistance movement that it attempts to accomplish. The new Freedom Chronicles DLC looks to add to the story with three brand new stories dedicated to Nazi-killing insanity. I'm in the process of going through Episode 1 and from the way things are looking, it's just going to get more insane from here.
#3 – MIDDLE EARTH: SHADOW OF WAR (WB Games, Multiplatform, Played on Xbox One X and PC)
Yeah, yeah, yeah, I can hear it already. Microtransactions killed this game. Cry me a river. Do I need to bring up the whole #DidntSpendATime campaign again? No. I did not pay for microtransactions. I grinded through ten hours of Act 4, completed the game and still go back to it a lot. Why you ask? Not only is the Nemesis System back and better than before, but the constant online sieges are just so much fun to take part in. And if you have an Xbox One X, you will witness one of the best ways to experience how 4K gaming should look like!
#2 – CUPHEAD (Studio MDHR, Xbox One/PC, played on Xbox One and PC)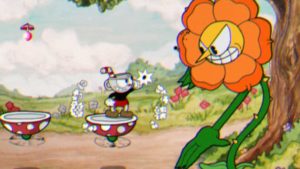 Finally, Cuphead has been released after a long wait, and normally a game as brutally hard as it is would be heavily criticized by me after a rage quit session. But for some reason, after nearly 400 deaths, I kept going back to Cuphead. I don't know why. Is it the amazing 1930s rubber-hose style animation? Is it the very catchy jazz soundtrack? Is it the very tight controls? Or is it the fact that it is challenging but it still stays fair? No matter. Cuphead is just a breath of fresh air that we needed, and was so close to getting my pick for Game of the Year, but something just barely beat it out…
#1 – INJUSTICE 2 (WB Games, Multiplatform, played on Xbox One X)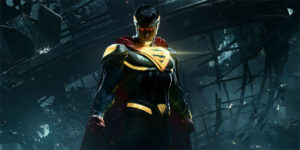 The Half Year winner manages to keep its title and wins my overall Game of the Year. Injustice 2 is just one of the most enjoyable fighters I played in recent years. Sure there were those who were worried about the Mother Boxes and how they would affect gameplay, but I had no issues with them at all, and microtransactions are limited to only cosmetic additions. The facial animation is some of the best I've seen in any game, and the story with its multiple endings is worth going through several times. The roster is already quite impressive despite some forgettable characters, and it just keeps expanding. Bring on the Ninja Turtles!
Now with the best and the worst of the year out of the way, I'm sure that there are a lot of games I'll get asked about. They might, however, be in the Honorable Mentions, so keep an eye out in two weeks to see if they made them.
Currently Playing: Witcher 3 (Xbox One X Enhanced Version,) Fallout 4
Waiting For: My Own Nintendo Switch