Well, I hinted at it during my Super Bowl prediction, and let's get to it. Let's talk about my 4K experience.
Yes. It's official. I now have made the jump to 4K. I've already have mentioned about my experiences with the past TV and the issues I've had with them how thankfully they were fixed, yet I am still looking for what to do with it. I've considered selling it to someone for real cheap, provided they know that I'm selling it as is and it might fail again. So if anyone is interested, feel free to let me know and maybe we can work something out.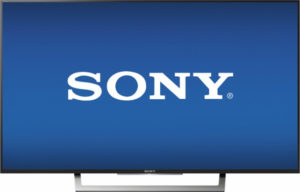 But with that out of the way, I have put my new 4K television to the test. To start off, I picked up a 50-inch Sony TV. I know there's going to be fanboys out there going off on me again with their same old "I thought Todd hates everything Sony" shtick, but as always that's not true. This just proves it. I spent a lot of time going over the elements I wanted in a new television. They consisted of the following:
1. A 46-50" screen that would not cost more than $800
2. HDR is mandatory, as that more than 4K is what I wanted. But the HDR had to be HDR10 as the other format, Dolby Vision, is not supported by consoles.
3. As I was going to play on both an Xbox One S and eventually a PlayStation 4 Pro, with the intent of upgrading the X1 to a Scorpio next year, I needed two HDMI inputs that were capable of HDR10
4. Lowest input lag possible when in 4K HDR
5. Highest color gamut possible
With all of my criteria set, in addition to the previously mentioned Sony X800D, I considered its lower model (the X700D) and an M series from Vizio. However, the Vizio used Dolby Vision by default (though it could be upgraded to support HDR10,) and only had one HDMI input that supported HDR. As for the X700D, it had amazingly low input lag but a weaker color gamut. The X800D had excellent input lag, a wide color gamut, and most importantly, two HDR10 ready HDMI points. So with all that in mind, I made the jump and bought the X800D for $750. Please note the link has it listed at $800 but I made the purchase before the sale ended.
So I get home and hook the Xbox One S to my new TV, and at first I had an issue with it not supporting 4K nor HDR10. Even with a new pair of HDMI 2.0 cables that I purchased on eBay for $10 it would not recognize. I later found out that the display settings much be set to "Auto-Detect" before it can be recognized as a 4K UHD set. Problem 1 solved.
Then there was the HDR factor. Initial tests of Forza Horizon 3 (the only HDR capable game I had at the time) resulted in the game being too dark to play. I noticed that I was not the only one who had this issue and I had to do a lot of research and trial and error to get the settings perfect. When finished I found the ideal settings on my TV were to set the brightness to max, contrast to 81, and what really made the HDR really show, the black level was set to 70.) Also the HDR brightness in Horizon 3 had to be adjusted, and when done, the visuals just popped, especially when driving while a sunset was behind me. I was amazed. Problem 2 solved!
I then did a movie test to see how it worked out. Sadly the movie I chose, Batman Vs. Superman: Dawn of Justice, might not have been the best film to truly test out the HDR and wide color gamut. It only showed any true potential during the Wonder Woman reveal but that was it. I thought that maybe Mad Max: Fury Road would be the perfect benchmark for HDR and WCG, so I tried to go to Target and get it, since they were offering a Buy 2, Get One free deal on movies, all the way up to 4K HDR.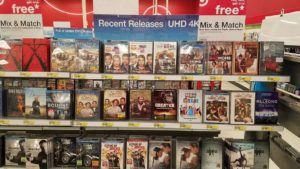 But when I got to Target, this is the display I saw. Notice how it says "4K UHD" but everything is either 480p DVD or 1080p Blu-ray?
So yeah I'm going to have to look around and find a copy elsewhere. Problem 3 Currently In Progress.
And to finish my experience, as I hinted at earlier I once again purchased a PlayStation 4. But this time, it was a PS4 Pro. You all may be asking why I did this? Well aside for the obvious testing, the other reason is because the PS4 Slim removed the optical audio jack, and I use that on my receiver, along with the Xbox One S. I heard previous horror stories about how the PS4 Pro could not be recognized by previous TVs unless you use the earlier version of HDMI, which did not support 4K nor HDR. However when I hooked up my Pro, the response was flawless. I had full 4K UHD, and though I didn't buy any games with it, I did have some saved on my account from when I last sold my system, one of which was The Last of Us Remastered, which did get an upgrade to support the PS4 Pro's resolutions and HDR.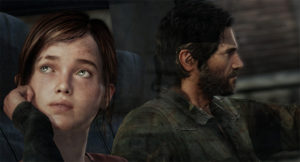 I tested the game out in its 1800p mode which ran at 60 frames per second (the 4K 2160p mode locks at 30) with full HDR and was pleased with the results. Sure I'm hearing about how the PS4 Pro is not using full 4K resolution (but rather using a technique called checkerboard rendering,) it still looked decent for me to start off. But of course, I'll have to wait until Scorpio next year to see if it will handle true 4K.
Then again, I also tested out Assassin's Creed Syndicate which uses "dynamic rendering" up to 4K. Aside from some minor frame rate drops, the results are quite impressive, but there is no HDR. Problem 4 solved…for now.
Needless to say I wouldn't recommend that everyone upgrade right now, especially if you can't afford to get a TV that supports HDR. I'm sure by the time Scorpio comes out these TVs will go down significantly in price (though the $750 I paid for the X800D is a good value. Wait for that one to come back down in price again.) Let's just hope that both the X1S and PS4 Pro gets more games soon that will support HDR as well as 4K.
Currently Playing: Resident Evil 7 Biohazard (PC/PS4 Pro,) Mass Effect Trilogy (Xbox One/360)
Waiting For: Halo Wars 2 (Xbox One)