A few weeks ago I went to the XX+ game jam, in the city of Bristol, hosted by Grrrl Games, a space for women making games. A game jam is an event, which brings together creators from different disciplines and gives them 24 or 48 hours to make a game. The event I attended was an all-women event, designed to increase diversity in the games industry.
Sponsored by Canadian social sciences research council, ReFiG, the XX+ game jam took place in five different locations around the UK – with an international event held in Canada, at the same time.
The call went out to "women, trans persons, and non­binary folk from all backgrounds and levels of experience and abilities to take part." I heeded that call and put my name down as a writer, not knowing if I'd be of any use to anyone.
Then I got the email confirming that I'd been selected and the reality set in. I'd never written a game before, I'd just written sometimes scathing reviews about them from  my journalist's tower. I was coming from a place that's so far removed from the toil of game development and instead just casts judgement over months and years of work with a flick of my quill. I don't actually write with a quill, I use a keyboard. Just in case you were wondering.
Back to the game jam. Around 20-25 women/trans people gathered in Bristol, we connected with the other jammers around the UK and in Canada over Skype and then split into teams. I was the lone, dedicated writer and was scooped up by Claire Morley (programmer/artist) and Sharon Taylor (audio designer). Sounds like the makings of a game development team, we thought.
The theme of the jam was 'borders'. So obviously, ideas about refugees, Brexit and Trump came up, but we focused on personal borders and went with the story of a woman trying to piece together lost memories from her life.
We started on Friday night, which gave us enough time to develop a concept and get a bit of work done, before it was time to head home. The hardcore jammer works through the night, but we all had colds so decided a hot toddy and pillows were called for.
My night was restless. I woke up at 4am with ideas for a script swirling around in my head. I was struck by the fact that by the time I got back to the studio, we'd have a mere six hours to make a game. And as the script writer for a walking sim, I was also the level designer, so I'd have to crank out a plan pretty damn quick to hand over to the Claire and Sharon.
I learnt several things during this process. Things that are easy to write (marauding hordes of zombies, curtains wafting on the breeze) may be a pig to program. On declaring your great idea, check face of programmer/artist for blanching and rethink as appropriate.
More things than you first realise need audio and the audio designer needs to know what you want, how it sounds and how it's triggered. I also discovered that one clock tick is not like another. Some clocks sound like a portent of doom and others sound homely, illustrating how important audio is for atmosphere and a sense of place and time.
Through the process, I also found that I love working in a team, I don't need that much sleep to function and the fear of a deadline kicks my tendency towards procrastination in the butt. The beauty of the team dynamic is you've always got someone to try something out with. You get support and encouragement. And you have to produce good work because you don't want to let your team down.
So at the end of the six hours, we had the semblance of a game. Claire had rendered a house interior with furniture and walls and lighting and the player could interact with objects to trigger Sharon's audio and my text. We had to seriously cut the game down to about four interactions to deliver a sense of the story for the demonstration to the judges and our fellow jammers.
At  the end of the jam, we demonstrated our games to the other teams. We had games about trying to escape from Trump's America by blasting through his wall, social anxiety on the commute home from work with Jeff the office colleague from hell. One game was trying to bring the world together through snacks from different cultures and a puzzler used the perspective of a toddler to dictate gameplay.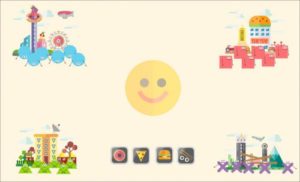 The judges deemed uniting the world through snacks the winner, otherwise known as the phone game Nommityville. But to our surprise, our game Before I Forget won the Audience Choice award, which means it's the game our fellow jammers would most like to see finished. And with that swell of encouragement from our peers we aim to finish the game and get a prototype together by the beginning of January. So, watch this space.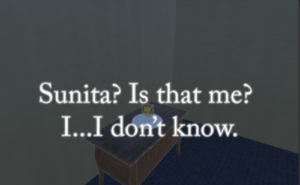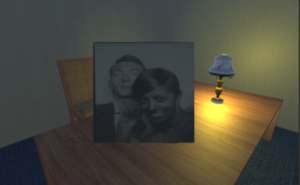 Events like xx+ game jam are important because they help create an environment that's free from the unconscious gender bias many of us have. Even women may unconsciously defer to a man's input over a woman's, so an all female/trans event is important for that first step into making games before joining a mixed gender jam.
I had an extremely positive experience.  There was lots of cake, which always helps, but I met a great bunch of people who all came up with interesting games. The judges were disappointed because there were no complete turkeys, so we all pulled it out of the bag in around 9 hours, in total.
I'm proud of the game we made and I'm excited to get it finished. And I'm excited about events like XX+, which can help create a real shift in the games industry. There's still much to be done, in terms of class and ethnicity, as the games industry is largely white and middle class, even at all women events. That said, XX+ is a step in the right direction for reaching out to minority voices that enrich our industry and help us create different player experiences.