For 12 days in April, each year, London becomes host to the London Games Festival, culminating in indie convention, EGX Rezzed. The London Games Festival is a city takeover, as various games events pop up around the city, celebrating all aspects of videogames culture. EGX Rezzed is a medium sized convention that showcases indie games, from the very small and experimental Leftfield Collection to bigger indies from publishers like Devolver Digital and Double Fine, as well as Xbox and PlayStation rooms. It's a great show and I went down to moderate a panel and play as many games as I could in the short time I was there.
The Leftfield Collection has a very special place in my heart, as it's a curated room of the weird and wonderful games that might not get a platform anywhere else. In 2018, we (myself and developer partner, Claire Morley) were lucky enough to get into Leftfield with our game Before I Forget, so it's the first place I went.
So, here are five games I loved at this year's EGX Rezzed.
Bird Alone
Bird Alone is made by George Batchelor and comes with the strapline "become best friends with a lonely bird". The luscious art style features a brightly coloured parrot against a background of muted greens, blues and purples as it sits in the jungle. The style is reminiscent of a children's picture book, with fine lines and washes of soft colours.
The parrot begins to talk and the player can respond and interact with the environment to play music that amuses the bird. The dialogue is funny and immediately engaging, as the bird asks you sometimes philosophical questions and then comes back with a witty quip. The scene changes and there is an opportunity to create music by interacting with a water and some lily pads, which sees the parrot sing along.
I only played a small demo, but want to see more. Bird Alone is heading to mobile and is designed to be played every day in short bursts. The time of day you play and how long you leave it between play sessions impact the bird, allowing it to ask big questions about life and death and the universe as it waits for your return. It's a gorgeous and funny game, so look out for it. Release: 2019
Doggerland Radio
Doggerland Radio, by Amy Godliman, is a pure audio experience. The table is dressed with a map and a few objects, but the game interaction happens through an old style radio. The player tunes the radio to different frequencies and simply listens to the sounds as they tune in. The game is still in development, but aims to draw a picture of the landscape portrayed by the physical map, using snippets of audio. There's no story to reveal or mystery to solve, it's just an experiment in drawing with sound.
Haunted Garage
Haunted Garage, by Jean de Wet and Richard Pieterse, is another game that focuses on audio. It has a strong visual style, using detailed line drawings of whimsical instruments and machines that produce various sounds and rhythms. At first, it's unclear what to do, but by interacting with the objects you can pull levers, click buttons and sliders to set the tempo and shut off some of the sounds being made. Haunted Garage describes itself as a whimsical illustrated sound toy with elements of exploration, which just about sums it up.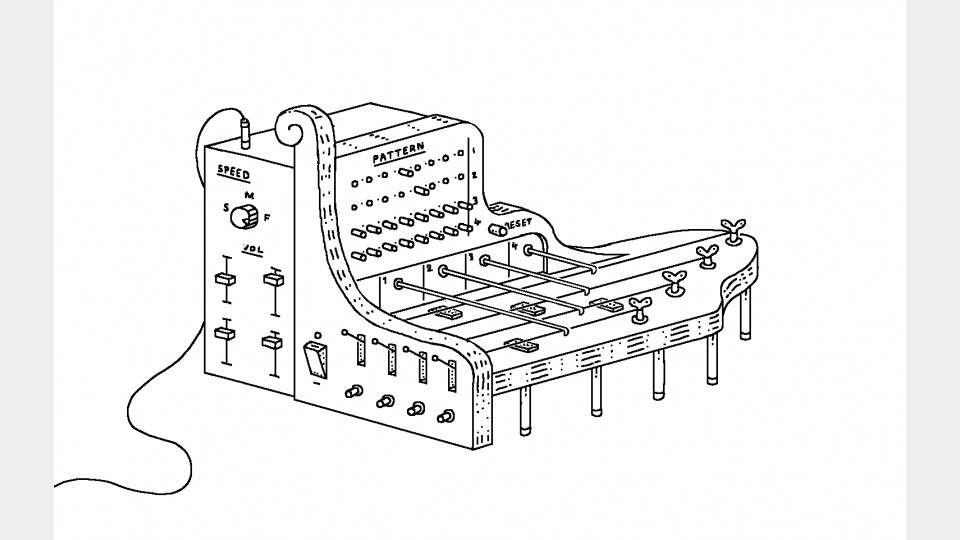 Can Androids Pray
Can Androids Pray is a short game, by Natalie Clayton, Xalaxvier Nelson and Priscilla Snow. The whole game was available to play at Leftfield and took about 10 minutes to complete, but in that short time it took me on a funny, intriguing, tense journey, peppered with humour and philosophical ideas.
The premise is a conversation between two androids that are doomed to die. They are on a planet and communicating through their last moments. The screen is the UI of one of the androids, with simple dialogue choices to click through. It's stylish to look at, with excellent music adding to the sense of impending doom and the sad androids struggling with their sense of mortality lends the thing a Blade Runner feel, in the best way. Well worth playing, if you get the chance.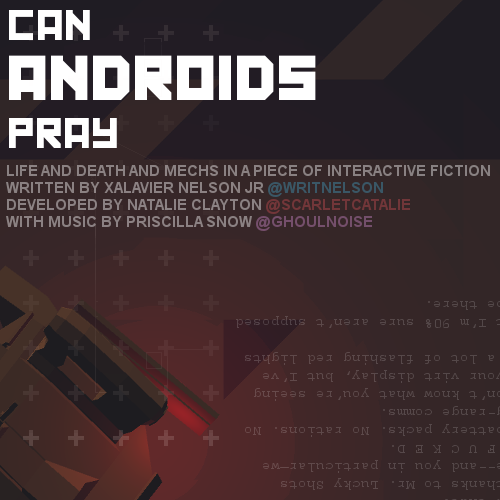 Collage Atlas
Collage Atlas is an illustrated adventure game by John Evelyn, which uses black and white linework to depict a fantasy landscape of filigree ironwork, wonky grandfather clocks and Victorian lamp posts. The game is like a journey through a popup book and it's incredibly calming and beautiful. It's a game about memory and nostalgia and definitely one to watch. Out 2019 on PC.