Hi all! I'm back with my first foray into the Dark Souls series and universe, and boy was it a shock even for me. It's time to brave forth for the third and final outing in Dark Souls III!
Plot: Well this wasn't a huge surprise to me, as I'm a newcomer to the series and wasn't expecting to know what was going on very well, but boy, Dark Souls III does not even give me hints about what went on in previous entries. I was thoroughly confused and bewildered almost constantly by references to things I feel like I ought to know, but because I'm a newcomer to the series I don't.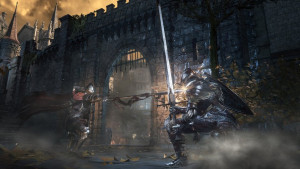 This isn't to say it's a bad thing, one of the few things I knew prior to even asking for this game to review it months ago, was that the series had a deep submerged plot that wasn't handed to you, and you had to find out as you played the game. It wasn't shoved into your face, instead if you wanted to learn it required you to go searching.
I respect that, I really do. However I would love a Database like the ones from the Mass Effect series that allowed you to get into the nitty-gritty parts of the lore, something that builds up slowly as I played.
Start your Dark Souls III journey with a copy from Amazon…if you dare!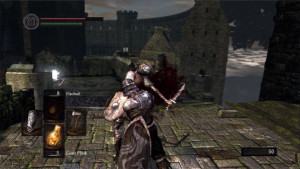 Gameplay: As this was my first entry into the series, although I knew coming in it would be difficult, I was still making incredibly stupid mistakes that series veterans wouldn't make. Stuff like not attacking the NPCs, because they'll come kick your ass even after you die and respawn. Or that you should watch out for that little crevice, because it's really not a crevice, but a drop onto two enemies on a very narrow ledge that is really easy to be pushed off.
The first caused me to restart the entire game over from scratch, thankfully only a couple hours in; the second was the cause of my first death in the game about 35 minutes into playing. I don't know if that's impressive for a first time player of the series and would love to know, but that's besides the point.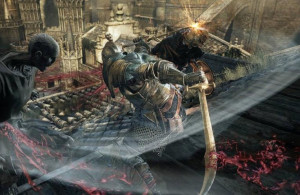 This series is known for brutality in terms of difficulty and the lack of forgiveness. That being said after beating the first boss I was definitely hooked to the series, I died once, figured I should probably start repeating the first area over and over until I got slightly comfortable with the control scheme and once I did so, went and kicked it's ass. Now I sweated up a storm beating it, but boy was the feeling of success worth the hour and half of repeatedly whacking the first few monsters over and over again to get comfortable with controlling my character.
The time investment required for someone of even my personal skill level in games is incredibly steep, and I'm not a bad gamer. Ask my Destiny Raid team about how fast I could run the Oryx relic up in the air because I memorized the spatial positions of each platform and can jump successfully to them landing on them as they form. I don't like to brag, but as I need to successfully give a good comparison of difficulty in terms of skill, the respect someone can earn by clearing a Souls game quickly is definitely well earned. However, all that aside the game was fantastic, and I loved that I could play the game wrong and be punished for doing so thoroughly, and sometimes repeatedly.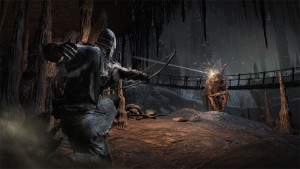 Online: Here's where the fun, or nightmare depending on your luck, begins. You can leave messages in the ground for other players to use. Find a spot where you really want to let others know what to do in order to die? Leave a message purposefully messing with other players. Of course you can do the opposite and leave tips, like "There's a Dragon up ahead!"
You can also invade other people's games in order to screw with them as well. In addition to the messages and invasions, you can also see where other people died, watching a play by play of what they did wrong a few seconds before dying. All of this adds tons of things for players to watch out for in addition to just about everything else.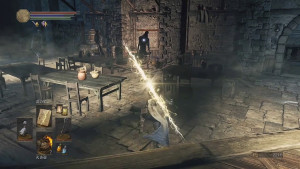 Art: The art is great, but outside of the non in-game rendered cutscenes, it wasn't really up to what I thought the current generation could handle. That isn't to say the game is ugly, but it lacks the crispness of games from even a couple years ago like Infamous: Second Son or even Final Fantasy XIV: A Realm Reborn more recently.
Music: The music in the game is creepy, and while I normally stay away from horror games, I genuinely enjoyed the music in this game. Well, except for the creepy undead's mumbling growl that you hear when walking by one that isn't dead. It was useful, but I could've enjoyed a thoroughly less creepy vibe from some of the monsters. Maybe I'm just a scaredy-cat, but I don't like the feeling of being crept up on by something.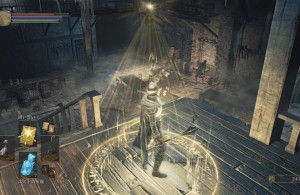 Overall: This is incredibly fun, however it's an incredibly difficult game at the same time so it's definitely not for everyone. My family and I jokingly named Dark Souls III "Masochism the Game" because it definitely takes a special kind of insanity to thrive here.