Hello Games revealed a new No Man's Sky gameplay video at The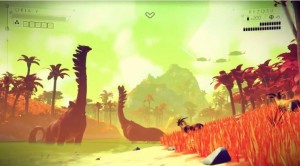 Game Awards, on Friday – hence the whooping crowd noises. The video shows ships landing and taking off from gorgeous, multi-coloured planets populated by alien flora and fora, which we're told are all procedurally generated.
No Man's Sky wowed everyone, when it was revealed earlier this year and seems to be living up to the hype, so far. The more we see, here at GiN HQ, the more we want to play it.
The sci-fi game boasts millions of procedurally generated planets, each with their own plants, animals and landscapes. Players are free to explore the planets or go into space for some battles.
The game is released, some time in 2015, first on PS4, with a PC version to follow. That day cannot come too soon. Check out the video and tell us what you think.