Welcome Time Wasters!
I'm reaching out to my smartphone this week for the time waster. It's not something I normally do, but I'm trying to justify reasons to use it. See, I've recently dropped social media from it in an effort to be more productive. It's true that this does mean I'm on it less and doing other things, but I can't help but feel like it also means I'm not getting much use out of something I paid for. In an attempt to counter this, I'm going to try and play more mobile games, like Music Racer.
Music Racer is a rhythm racing games that lets players use their own music. This can include files that are locally on the smartphone, or music from YouTube. Actually, I never got the YouTube portion of the game working and there are other complaints about it being an issue. So don't grab this if you don't have music files already on your device.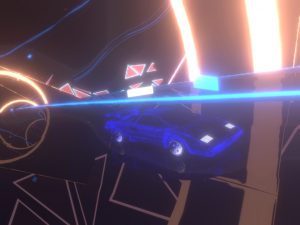 Even with the YouTube not working, I have no shortage of music on my phone to use in Music Racer. Seeing the neon color palette of the game, I felt it was only appropriate to hit it with some retro tunes, or at least those with some retro inspiration. After doing so, I can't deny just how cool it feels racing through neon streets while listening to songs from the Transformers OST (Yes, the animated 80s film.), or from retro synthwave band Sunset Neon.
While the game definitely has a "cool" factor going for it, that doesn't mean it's problem free. Oh no, there are plenty of problems with this game. Starting off, all of the awesome neon colors can be horribly distracting and make it hard to play the game. This includes the notes player's pick up for points not sticking out well. The same is also true for the obstacles in the game, which are easily mistakable for parts of the background.
Another major issue plaguing this game are the ads. I know, I know. This is something I harp about often when it comes to mobile games, but this may be the worst case yet. Music Racer loves to hit the player with unskippable video ads after every track. Sometimes it's even feeling cheeky and gets you before a race as well. I loathe this more than anything about mobile games and Music Racer is a horrible offender.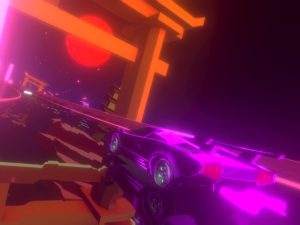 There are also some other more minor issues with Music Racer as well. This includes occasional janky performance, the controls being a bit laggy at times, as well as the photo mode just plainly freezing up the game. I could overlook some of these issues, but the fact that they are all in the game, on top of the ad frequency, plus the other problems it has, just makes them stick out more.
Overall, Music Raceris a game with a solid idea behind it. The core gameplay also seems fine. However, some strange decisions during development leave it with abysmal problems. I can't really recommend this game due to these. That's unfortunate, because I really do see some great potential from this as a time waster.
Music Racer earns 2 GiN Gems out of 5!