Welcome Time Wasters!
Last week I hit you with an early game to celebrate Christmas with. So you may be wondering if I'm planning on another themed game for an early New Year's celebration? Sorry to say that isn't the case this time around. Instead, we're talking about Taiga Escape.
Taiga Escape is a game that has to do with a lone hero trying to escape from a forest full of monsters. At least, that's what it seems like at first. Unfortunately, the game is an endless runner. This means there is no real escape for our hero. He is trapped for eternity running through this forest and constantly dying.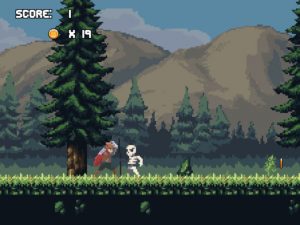 That constantly dying part is just a little too real, in my opinion. The game, of course, challenges players to get a high score by progressing as far as they can, but death is going to put a stop to that real soon. Our hero only has a sword to attack with and can jump to dodge obstacles. The bad news for the player is that it takes two sword strikes to kill enemies. Making matters worse is the fact that your character will inch forward between strikes, which sets them up perfectly for death. As a result, runs are incredibly short.
The other bad thing about Taiga Escape is that the player dies in a single hit. That includes enemy attacks, running into spikes or just plainly not jumping over walls in time. It's a bit unforgiving, which would normally be a problem. However, the poor controls (clicking to attack and space to jump) really make it feel like the player gets cheated when they die.
Honestly, I can't for the life of me understand why this game is an endless runner. Everything about it screams side-scrolling adventure game. The game would be infinitely more fun and rewarding if the player was just able to control their movement. I would even accept the one-hit kill thing at that point. If I'm being super greedy, I would say incorporate a story about actually getting out of the forest as well. Nothing complex or anything like that. Maybe just a simple adventure tale with a spice of mystery. That works for me.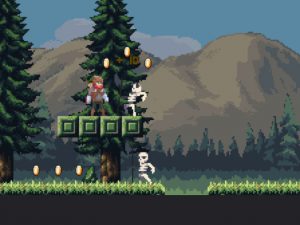 The real tragedy of Taiga Escape is that the game looks incredibly good. It has some nice pixel art and some wonderful flowing animations to go along with them. The player character and enemies both look and feel like they have weight to them, which is such a rarity to find these days. However, that alone can't save the game. My assumption is that this game is made by someone who is an artist first and programmer second. It might be beneficial for them to team up with someone with better game design skills, but hopefully they can better their craft over time.
This is the part of the review where I would normally talk about the audio in Taiga Escape. The hiccup here is that this requires there to be audio in the game. There's nothing. No sound effects or music. Just…nothing.
Overall, I can't really recommend players spend their time with Taiga Escape. The game shows promising talent, but then uses it in all the wrong ways. It just seems like a case of someone not having a clear-cut vision of what they want their game to be. This game is a pass, but I hope the creator keeps at it and makes more games.
Taiga Escape earns 2 GiN Gems out of 5!