Welcome Time Wasters!
We're sticking to the mobile games this week, but I promise we will be mixing it up again in the next couple of weeks. Until that time comes, let's talk about Tower Breaker.
Tower Breaker is a hack and slash game that has players progressing up the floors of a tower as they work to grow stronger. Being that this is a mobile game, it's incredibly simple in terms of the combat. Despite this the game continues to be engaging. This is due to the interesting combat loop that it has.
There are three basic actions that players can take in Tower Breaker. The first is a dash. This will have them moving across the screen until they reach an enemy. The second action is a block. This will push the enemy back a short distance. The final action is attacking, which is self explanatory.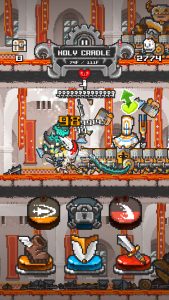 The way Tower Breaker works is that the enemies don't damage the player by touching them. Instead, they will hurt the player if they manage to push them to the opposite side of the screen. To avoid this, the player uses the block to push enemies back. The player can't block infinitely though. Instead, the action has to recharge a couple of seconds between uses. This isn't true for the dash or attack actions.
What this all means is that players will be mixing attacking, blocking and dashing to keep enemies from overwhelming them. This keeps the game interesting and creates a strong flow for the gameplay. What else helps are special moves that players unlock as well. There are a variety of them that can help the player clear the screen of enemies and progress forward. The different moves that a player has depends on the gear that they are wearing.
Speaking of gear, there's a lot of it in Tower Breaker. This is due to gear being the way that players grow stronger in the game. Not only are there different rarities of gear, but each of them can also be leveled up. This increases attack, speed, as well as some other attributes. There's also other equipment in the game, such as helmets and armor, but they don't drop as often as weapons.
There are loads of levels to move through in Tower Breaker, but players don't have to do them all at once. Instead, they get checkpoints every ten levels. Of course this means that the player will face stronger enemies every ten levels as well. It's sort of like mini bosses, but the enemies aren't unique.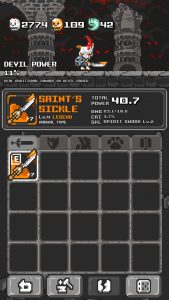 So here's the thing, I really like what Tower Breaker has going for it, but there's one major problem: ads. This game is full of them. Ads after every tower run, ads for bonuses, ads for more currency. There's ads for everything and they are all video ads. Screw that crap. All it would take is toning these ads down a little and the game would be so much better.
The graphics in Tower Breaker are solid. The game looks great on a mobile screen and the sprite art stands out well. This includes the attacks looking great and really conveying a sense of action and urgency to defeat the oncoming enemies.
The audio in Tower Breaker is also good. It's not something that really stands out to me, but I found it to be completely acceptable. Let's be honest here, audio in mobile games barely gets listened to anyway.
Overall, Tower Breaker is a fun game and it's good for killing some time with. It's just disappointing that the game has so many ads in it. It really drags down what would be an otherwise great mobile game.
Tower Breaker earns 3 GiN Gems out of 5!