Hey Gang! Summer is here and it looks like some states are letting people out of the house and visiting others. But don't let your guard down. The virus is still very much out there, so even though you can go out, be careful if you do. And consider keeping inside just a little bit longer.
Those of you looking for a vacation might consider heading up to Gettysburg in Pennsylvania. The town was the site of one of the biggest battles of the American Civil War, and the battlefield is a historic landmark and National Park now, packed with all kinds of interesting history and attractions. Then again, if you would prefer to keep at home and stay safe for a little while longer, or don't have the funds for a long road trip, then you can check out the Gettysburg Battle App instead. Created by the American Battlefield Trust, this is one of the best ways to experience the battle remotely.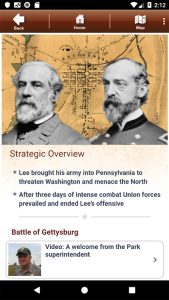 My editor, John Breeden, made a special request and I was asked to cover this really cool and educational app about America's past. It's a great way to educate the kids, and bring them the flavor of this really amazing town and its place in history. In addition to the battle itself, Gettysburg is considered one of the most haunted areas in the entire country, with lots of people seeing ghosts along the trails. Let's dive into this app and see what it's all about.
Pennsylvania is a gorgeous place in the summer. I've been lucky enough to visit and found the weather to be wonderful this time of year. There's plenty of fresh air, there's greenery everywhere, and the weather feels like it's still in spring, and the smell of chocolate if you happen to pass by Hershey. (Yes that's where they make the chocolate, though that is a story for another time.) Then there's the fantastically historic (and haunted) Gettysburg, where the great Battle of Gettysburg happened during the Civil War. Over a violent three day period, the fate of our nation changed forever.
Had things gone a different way, and it was very close, the United States would not be what it is today. So an event like this is deserving of an app, not to mention the reverence and monuments that surround the place.
One of the first sites you get to visit in this app is the bloody Pickett's Charge. This is when Confederate Gen. Robert E. Lee made a final push to try and win the day, sending his veteran troops lead by Maj. Gen. George Pickett into the fray against Union cannon and infantry. They bravely charged across a mile of open ground, and were slaughtered almost to the man. The app lets you start where the charge began and follow it all the way up to the Union lines, where some of Pickett's men actually briefly breached the defenses.
What's great about this app is that it has narrated tour guides who are totally in the know about America's history. Which is fantastic, because the app also has a map that guides you through everything that happened! So you can see all the critical places where a bloody battle between the North and South actually happened. There's tons of pictures to help you find the markers as you take yourself on this breathtaking guided tour.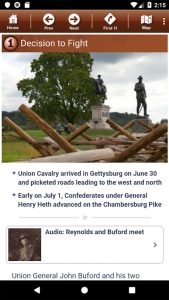 It's both interesting and educational, and presented in a very professional way.
For those of you who are more about the paranormal side of things, the app has you covered. Many of the haunted places around the battlefield are included in this tour you can check out.
The includes the Sachs Covered Bridge. It was built 1854 and was used by three confederate soldiers who deserted their ranks. They were found and hung on that same bridge. Apparently there's strange anomalies and supposedly you can photograph the ghosts of the soldiers. The bridge is open to pedestrians if you want to check out this spooky place. Also it's a really pretty place to take family photos, if you're not too scared.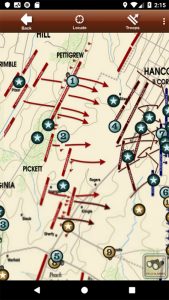 But that's not all. The app also includes several museums that you can visit, like General Lee's Headquarters. This is where General Lee set up shop in the home of a 69 year old widowed woman, who probably wasn't too happy about it.
Some of the bloodiest battles took place around there, so there's bound to be a ghost or two there as well.
This is an amazing application, and gets even more respect for being educational-based. Grab this one on iOS or Android. It's free, and offers a window to an interesting place and time that shaped our nation during a very troubled period in our rich history.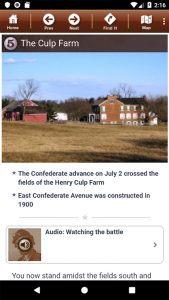 Curious about what Modern Gamers does in her spare time? Check out woodlingsart.com, and patreon.com/Shurale. From June 25-28 will be the first ever Couchcon! Mordern Gamer will be there as Woodlingsarts with a ton of fantasy art.
Also check out the new South Eastern Artist Showcase on Kickstarter. https://www.kickstarter.com/projects/bfwiii/southeastern-artist-showcase