Super Kitty by Dan-ionut Chris may be the purest form of evil available for iOS. A puzzling little platformer, Super Kitty, from my naïve first impression, seemed like a cute echo to Super Mario Bros. complete with backdrops of a pleasant country side and the occasional mushroom cluster. You play as an adorable white cat that runs around on two legs, a red cape swaying from its back. But after bashing through the second stack of bricks in the first level, I soon realized this game was going to be less like the adventures of two affable fungi-consuming Italian brothers and more like Cat Mario after Super Kitty died in the settling rubble. Simply put, everything in this game is devious and will try to kill you.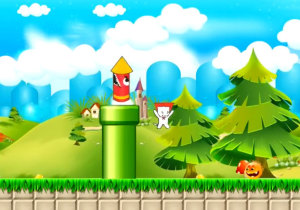 Everything that seemed cute and precious is instead sinister and double-edged. I quickly learned to disregard jumping into any pipes if at all possible and that collecting coins really doesn't accomplish anything. As I write this I cannot shake the sadness that washes over me as I have failed to help my Super Kitty navigate the maze of false platforms, invisible coin boxes, and rocket propelled enemies through level 1-1. The trick behind this game is to find the rhythm for each surprise throughout each level and to memorize its place along the platform. Not that any of this advice has helped me crawl along any further, but I digress.
There are respawn points and an in-game store that can be used to help assuage the dangers of each level. Once you use up each respawn available to you, you do have the option to watch an advertisement video to gain two additional respawn points, but this took time that I didn't see as necessary: my fate in Super Kitty has been sealed and no amount of respawn points or helpful totems could prove beneficial.
The main drawback I had for this game was its music. While I initially found the optimistic Barney, the Purple Dinosaur-meets-ice cream truck music that runs on a loop ironic and funny, I quickly learned to hate it and have since played Super Kitty on mute. Would Wagner or grunge have made for a better, more mood-appropriate soundtrack? Possibly. Will the music stop me from playing Super Kitty in the near future? Not at all.
For those who enjoy platformers, kittens, and sadistic memorization games Super Kitty is a must play. For everyone else it's at least fun enough to play through once, laugh about, and move on. Check it out and feel free to leave a comment below.