Being a big sci-fi fan, a new space RPG sounds like a really good time.  Flying around in a space ship exploring new worlds meeting new characters and alien races, going on quests, combating enemies with plasma weapons and future tech, while enjoying a sci-fi story based on something futuristic and alien.  That was my hopes for PlanCon.  A story taking place in the year 2600 where aliens have taken over our Solar System.  You are a military cyborg whose mission is to free Mercury and other planets from the hostile alien invaders.  Sounds good, right, well it was not the Space RPG I was looking for.  It has potential but fell flat on multiple areas.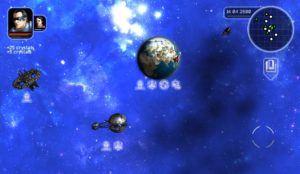 This game has some good aspects, for one PlanCon is visually appealing with different space themed backgrounds.  Though I was confused about the nebulous background to our solar system.  Maybe in the year 2600 a gaseous cloud will expand into our corner of the galaxy giving birth to new stars.  It is sci-fi so anything is possible.  Traveling between planets, which in reality, unless some catastrophe shifted them to locations light years from their current positions, would not drastically change the background like it does in this game.  However, they are still visually appealing backgrounds.
The soundtrack is also pleasing to listen to while darting between planets and space stations.  Even though it is not voiced there are icons that appear to let players know who is talking.  There is also a trade and purchase system on planets and stations to upgrade your ship and sell goods for coins.  Just visit a merchant and they will sell you goods. You can also collect crystals to purchase upgrades and new ships.  The black market in the menu window has other sought after goods and needed fuel.  You will need to acquire a lot of fuel every time you need to travel in this game.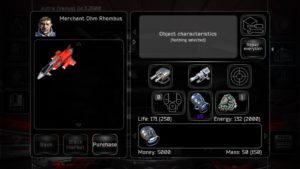 At least you can get rid of all the extra space junk collected to buy usable goods and repair your ship.  Space junk randomly appears after defeating enemies or other ships defeat enemies, or just floating around in space. To sell you have to drop cargo into the area where items for purchase are.
Start your own space empire with a copy from Amazon
Over the course of the game you can acquire new crew members, some are given others will ask to join.  The player can refuse to accept them.  For me if there is room they can tag along, hoping they will be productive.  Although on some missions I felt as though I was just a captain of a passenger ship ferrying important people to a destination instead of being a soldier.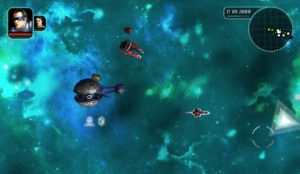 The game is playable.  Clicking on the map moves the ship.  However, without the right engine parts you will be moving slowly never to reach your destination.  Reason, the destination keeps moving away.  This was frustrating.  Space stations should be orbiting planets in fixed locations, not moving wildly around the map.  To dock you need to hold the left click and select docking.  You are also able to target enemies or set a weapon to an enemy for automatic combat. Combat was surprisingly good and difficult at times. It all depends on the equipment and keeping up with repairs.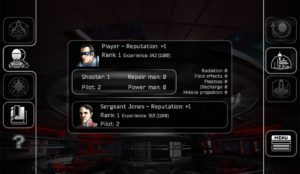 The AI was a bit weird, ships kept spawning from stations and random battles took place. Because all ships looked alike I could never tell friend from foe.  Though that is a point for the game to figure out who trust.  The alien invader ships looked different but it was human ships that were not distinguishable.  There were also only a few varieties of space stations, which were close to the size of the planets.  PlanCon has a confusing design.
There are also multiple icons on the map instead of a standard user interface.  Clicking on the icons do different tasks, such as tell you the mission or select a weapon.  It's easy to click an icon and instead click the map moving the ship or camera. I though the camera controls are too sensitive. Clicking the player icon gives you a menu window to view and change ship parts, upgrade stats, see crew members,  and review mission logs.  A player can also check the trade values on Earth and Venus.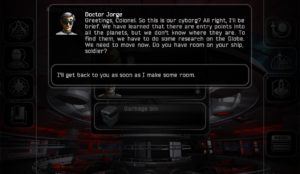 The characters are not very memorable and the dialogue is tedious at times. Here Doctor Jorge is explaining to the cyborg pilot to make room for him in the ship.
You are able to fly around to different planets in the solar system. For the first missions players constantly travel between Earth and Venus.  The early story is your character must obtain a device that will free Mercury. The introduction was a short background to the alien invasion and the military offensive, but nothing on the back story of my character.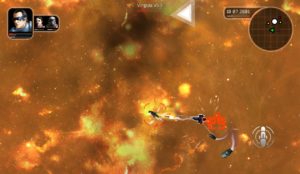 The characters are not very exciting or original.  Your character is a cyborg and there are different characters to interact with but no real memorable ones.  Many characters reuse the same icons so there is little originality.  The dialogue is also unoriginal with nothing to keep a player engaged.
As an RPG it gives dialogue choices with each choice moving  a character to a specific direction. On steam it says you can be a pirate, a merchant, a thief, or soldier.  That sounded exciting.  The choices I have so far do not seem to take me to any direction.  Like most RPGs I choose the most appropriate answer for the moment.
Even though the story might improve  later on,  for first impressions I was not impressed.  There are some very good Sci-fi RPGs available but PlanCon is not one of them.  Its good if you want to play for the space combat but not for the story.   It has potential but in its current state I couldn't really enjoy it.