Soccer is a popular sport throughout the world. There have been tons of video games for soccer like, EA's FIFA and Konami's Pro Evolution Soccer. With the World Cup group stage going on, you might be looking for a soccer game that is a little more portable to extend your World Cup joy. Final Kick: The Best Penalty Shootout could be just the game app you're looking for.
In the Final Kick: The Best Penalty Shootout for iOS the player has a team to shoot penalty shots at the goal. The player has a team of five members divided into four shooters and one goalie. You have the ability change the name, appearance, and clothing color of your team members and train them to upgrade their stats. You can play online against other people or play offline in a tournament with teams from different countries.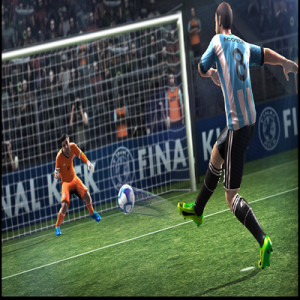 The main goal of Final Kick is to shoot goals with the four characters on your team. To shoot goals the player flicks the ball at the goal. The player also has to be a goalie and deflect the CPU or online players shots. To deflect shots the player has to flick the goalie towards the ball. This part of the game takes timing and watching where the shooter kicks the ball. The controls are easy, just swipe the ball or character across the screen. The graphics are pretty good, they remind me of PS2 graphics.
One issue with the game is that the goalie seems a little unresponsive when you swipe him. Another drawback is that you can only train two players at a time and then you have to wait an hour till you can play again, unless you want to buy upgrade packs. The main game is free to play and the upgrade packs are inexpensive if you really like it. I appreciate that in an app. That way you can see if you really enjoy a game before spending money.
Soccer fans will probably enjoy this game the most, but it is a fun game to pass the time. If you feel like you've been left out of some of the World Cup frenzy, pick up Final Kick and feel connected to the fun. Final Kick: The Best Penalty Shootout gets 4 out of 5 GiN gems.