Turok remastered is like a trip down memory lane, if memory lane featured exploding arrow heads, shotguns, and raptors. Turok was pretty groundbreaking when it released in 1997: While Quake had been viewed as the pinnacle of the FPS formula, Turok proved that first person shooters could still work on consoles. It featured expansive levels, large enemies, incredibly satisfying weaponry, and superb graphics (at the time), things that have been preserved in this remastered title. So is Turok worth your hard-earned $20? Let's find out.
Turok is a game about killing a wide variety of enemies with an even wider variety of weapons. There's a little bit of story about a bad guy trying to piece together a legendary artifact called the Chronoscepter in order to rule the world, but none of that is conveyed to the player in-game. When you begin Turok, a quick blurb of text pops up on screen, informing the player to find the hub and level keys in order to progress. Immediately thereafter, you're in control of Turok with no further context and forced to make your way out of the canyon to try and make sense out of the environment.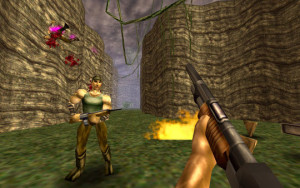 If you can't tell, story is not Turok's strong suit, and that's okay. You begin the game with a simple knife and arrow combination, and are attacked by a raptor pretty quickly. Shortly thereafter, you find a pistol, and after that, a shotgun. By the time you reach the hub ruin to actually get into the 'levels' of the game, you will probably have a pistol, an assault rifle, a shotgun with exploding rounds, exploding arrows, and a wealth of grenades. There is something like 15 different weapons in Turok, from a high-tech laser rifle to a rocket launcher, or even the incredibly overpowered Chronoscepter, itself (it's not just a McGuffin- you can actually make and use the weapon).
If only the enemy variety was as diverse as the weapons. Don't misunderstand; there are actually lots of different enemy types. Raptors, soldiers with knives or guns, lizard-men, robots, giant insects, and more all dot the landscape of Turok and are ready for a blasting. The problem is how those enemies actually deal with the player: Most enemies run straight at the player with little to no variation, and those that have ranged weapons stand stationary and shoot. A lot of the enemies are thematically diverse, but the way they interact with the player is almost entirely the same, which makes most enemies seem more like new coats of paint on just two different enemy types.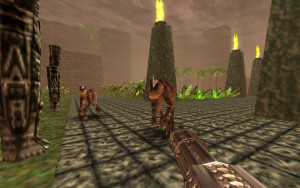 Progression in Turok is quite possibly the best part about the game. The level design is top notch, and the skilled craftsmanship shows through even 19 years later. There's an abundance of secrets throughout all of the giant levels, with tons of little challenges such as platforms you must jump across (imagine this as being the precursor to the first person platforming segments of Metroid Prime), lava, pitfalls, fake holes, hidden passages, a variety of portals with various goodies at the end, and more. There's a new challenge in every new location the player approaches, making progression a joy all the way through to the end of the game.
Players will have to collect keys as they progress through Turok. You won't just be going from point A to B down a corridor, like many first person shooters do in this day and age. You'll actually be required to explore most of the new levels you unlock, as you can't progress to the next level until you have the appropriate number of keys to unlock that level's gate in the hub. Each level requires 3 keys, and players can keep track of which ones they've collected via the pause menu. Unfortunately, this also means that if a player misses a key in any given level, you're forced to wander around until you find an area that you missed the first time through the stage. The levels in Turok do not care a bit for you to get lost, and in most cases, it seems that is definitely encouraged as most areas with branching paths typically result in having necessary items.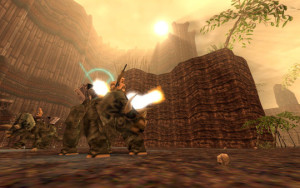 As far as the visuals go, Turok looked fantastic on the N64 in 1997. It…is significantly less so today. The textures for most objects have been scaled up, rather than re-drawn entirely, so while the game is capable of rendering a very high resolution natively, many of the textures look smudgy while the actual character models look crisp and clean; it's a very strange contrast. There is, however, a lot to say about the improved effects that Night Dive added to Turok, as they took the time to add in light shafts, bloom lighting effects, enhanced water effects, and more. So, while the textures may leave a lot to be desired, the added effects all look great and add a very modern coat of paint to the visuals, notwithstanding the buttery smooth 60 frames per second at all times of play.
The sound for Turok is the same as its always been. The music isn't particularly memorable, but the music never sounds out of place, which is still a good thing. Drum beats and simple loops pervade the aural experience of Turok, and while you definitely won't be whistling some of these themes on your morning commute, none of the music is grating or strangely out of place. As for the sound effects, many of them are quite satisfying, though you may get tired of enemies doing their best Wilhelm Scream impression by the 100th one you've killed.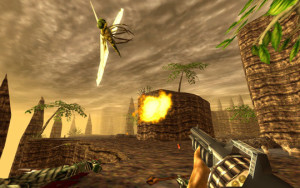 Boss fights are large, but never daunting. The bosses are afflicted with the same flimsy AI as the normal enemies, just with a couple more procedure calls resulting in extremely simplistic patterns that most players should be able to adjust to almost immediately. While the bosses are huge and a nice spectacle, it's still very obvious that the intricate level design is the largest reason why someone would play this game.
Overall, Turok remastered is a new representation of a great older game. However, you can't approach it as a modern day FPS title as enemy AI is abysmal, with most enemies doing little more than charging the player at all times. Health doesn't regenerate: Players will need to grab health pickups that dot the map in order to continue without losing a life (and yes, the game still features lives). Saving is done at specified locations, not whenever a player wishes to do so. There are tons of minor inconveniences and, "Product of its time" features all over this game.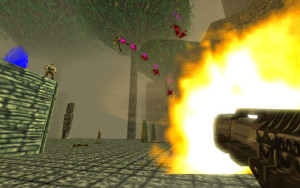 The level design of the game, however, is just so ridiculously good that even with all of these minor issues, Turok is an easy recommendation for those who enjoy unique shooters. If you can appreciate older games with an emphasis on exploring and little to no narrative, this may very well be one of the best games for you to pick up this early into 2016. It's relatively short, taking maybe 6-8 hours to finish and collect all of the secrets, so it may be worth $20, but definitely worth $10 should it be on sale at a later date.