PC and console gamers have gone back and forth about the superiority of their preferred gaming platform since the dawn of creation. (This is under the working hypothesis that the world came into existence circa 1980, when dedicated gaming PCs started to become mainstream. Just go with it.) For more frivolous reasons than I could possibly list in a single article, PC gamers and their console counterparts have bickered with point and counterpoint as to why one side should concede the other is better.
But there was always one key difference that couldn't be overlooked. Like countries with different languages, the console-PC divide has always been notably different in keyboard and mouse versus controller. With a large number of PC games now offering controller support, though, it seems PC gamers have finally snagged the best of both words.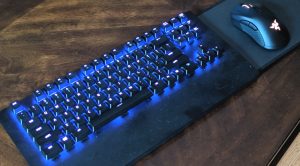 Not so fast. Partnering with Microsoft, Razer has introduced the Turret, a keyboard and mouse primarily dedicated to Xbox gaming — and the collaboration has resulted in one fantastic piece of hardware. Featuring Razer's trademark Chroma lighting, the Razer Turret is designed to offer the precision input PC gamers have enjoyed from the beginning and pair it with an ever-growing list of Xbox One games, all in a stylish package.
While keyboard-and-mouse support is reliant on individual developers implementing it into their games, the handful that currently support it benefit from a unique experience. To start with, the Razer Turret is a heavy keyboard, which is a great asset to have for something that's going to be sitting on your lap. Its weight offers stability, meaning you don't have to have it on a solid, flat surface for it to feel comfortable.
Additionally, the Turret's mouse boasts a light magnetization that works perfectly with the keyboard's pop-out metal mouse pad, so you don't have to worry about sudden twitch reactions sending the mouse careening off course.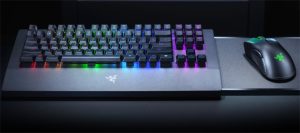 The keyboard's firm, slightly elevated, mechanical keys deliver a tactile response when struck, and there's plenty of room to comfortably rest your hands at its base. A dedicated Xbox button also works just like it does on an Xbox One controller, keeping your menu a keystroke away at all times. And the fact that the entire thing is wireless means there are no cords to get in the way or trip over.
The keyboard is the only functional part of the pair that works in the Xbox One's system menus, but once in a game, the mouse begins to shine. For as comfortable as people have become with controllers over the years, nothing matches the precision of a mouse. Even something as simple as navigating in-game menus becomes more enjoyable and less cumbersome.
With five adjustable DPI settings that can be changed with two buttons on the top of the mouse, finding your preferred sensitivity is literally a button press away. And the downloadable app lets you customize up to five player profiles, so multiple players with different preferences can swap their settings with ease. The app also lets you customize the lighting pattern to suit your style, with some games boasting integrated color patters that match what's happening on screen.
What's more, the keyboard and mouse get an estimated 10-11 hours of battery life when lit up, but turning the lighting off increases that to an incredible 40 hours, according to Razer. The lighting offers a great aesthetic, but if you're in for a marathon gaming session, turning it off dramatically increases battery performance.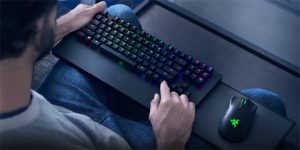 There's one more thing about the Turret that has to be said. For as much as I waxed philosophical about how great its performance is on Xbox, the keyboard and mouse are, of course, compatible with PC as well. For $249.99 at the time of writing, the Turret offers a top-quality gaming PC and mouse combo that fits nicely in the price range of what you'd pay for a similar high-tier pairing. Currently, it can only be purchased through either the Razer or Microsoft stores due to an exclusive agreement between the two.
The Razer turret isn't going to change the way people game, but it does bring a new level of precision and choice to console gamers. As Microsoft and other companies continue tearing down the walls between the PC and console ecosystems, the Turret is a superb offering from Razer that proves you can have the best of both worlds when it comes to gaming.
The Razer Turret earns 5 GiN Gems out of 5.